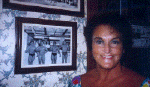 In 1948 Cherie posed with that year's Mr. Universe, George Eiferman at Don's Banana Stand.
When Cherie was a teenager in the40s, her parents would bring her to Balboa for the weekends. In 1947 her parents decided to buy a home in Balboa. When Cherie saw the first house her parents looked at, she knew that house was going to be her home from then on. So while her parents went looking at other new houses, she sat on the house's front steps to make sure no one else would buy it. The Ocean Boulevard house was a three bedroom with den, and fully furnished including linens and dishes. Her parents paid $18,500.00 for it. Cherie still lives in this house to this day.Once Cherie's parents moved permanently to Balboa, she immediately became a local.





She was a cashier at the old Balboa Theater, and she worked for Don Phillips, the man who perfected the frozen banana. There were two Don's Banana Stands in the old Balboa Fun Zone. One was located just behind the old Ferris Wheel where Mrs. Blue's Café had been located, the other in front of the old merry-go-round on the bay front. It was the summers when Cherie was 15 to 17 years old when she worked at these jobs until she got married and later raised three sons.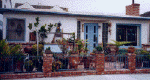 The house where Cherie has lived
for over50 years
Cherie looks back fondly on her teenage years in Balboa. " I used to watch all the big bands that came down to the Pavilion.I was a great dancer and I loved to dance.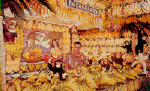 Don Phillips in his original
Banana Standin the old Fun Zone
She recalls all the hot spots, the Rendezvous, the Pavilion, Christian's Hut, Vaux's, and The Doll House. In 1948 Cherie posed with that year's Mr. Universe, George Eiferman at Don's Banana Stand. That old photo is on the wall next to the dinning room of the Tale of the Whale Restaurant in the Balboa Pavilion where Cherie has been the hostess since 1982. Cherie recalled of the photo in 1998, "I was 15-years-old. That was 50 years ago. I just had my 65th birthday.
Of working at the Tale of the Whale Cherie says, "It's like a family, everyone calls me mama here. It keeps you young working with young kids. All the people I work for make you feel like you are at home. It's a great view and I get to talk to my friends and get paid for it."