The late Gordy Wevill recalled it was Election Day 1948, and no liquor could be sold while the polls were open. Gordy and some friends including Dick Shaw (creator of Mr. Magoo) and Virgil Parch (who drew the old "Big George" cartoons) met in front of the old Village Inn on Balboa Island.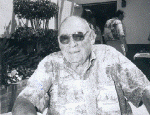 The Late Gordy Wevill
Village Inn owner Pinkey Scott couldn't sell liquor, but he could have some friends upstairs for a few drinks. The charter was written on the back of one of the restaurant's menus. It was at that get-together, the Balboa Island Sculling and Punting Society was born.
Club Rear Commodore Ron White words it this way,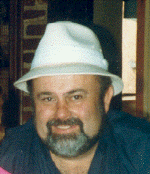 Ron White
"(They were a) bunch of eccentric old guys sitting around doing nothing. Bored wealthy people who wanted to do goofy things."
And goofy things they do. Like taking the train to Catalina. Sailing by boat to Las Vegas. Hijacking the Balboa Island Ferry. And almost taking the bus to Hawaii, to name a few of their antics. The boat to Las Vegas got the club a write-up in Life magazine.One of the original members was a big wig at Paramount Studios, and he would get costumes for the club's escapades, charging them off to a film in production. Wevill recalled, "We always ruined the costumes."
In a demonstration of how the club gets things done, Sandbar who uses no last name and was skipper of the harbor cruse boat Pavilion Queen for years, remembers over twenty years ago when he became a member at a club meeting at Dillman's restaurant in Balboa. At that time the club had only eight members. A couple of hours after the meeting Sandbar was walking up Main Street when club member Sammy Miller came up to him and said, "I have good news and I have bad news. The good news is we elected you club Commodore. The bad news is we had five rounds on your bar tab.