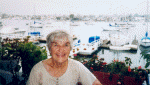 Estelle sitting on the patio of
her bayfront apartment
It seems like only yesterday when Estelle Feeland opened her seamstress shop in the back of Cottenfield, a clothing store on Balboa Island in 1982. Business was good for Estelle and when Cottenfield closed in 1992 she moved to a little shop upstairs at 302 Marine where she has been serving all of her friends on Balboa Island as well as Balboa Peninsula.
But alas, all good things must come to an end, and Estelle closed her shop on April 28, 2000.
Estelle decision to retire came as she words it; "I made up my mind when I couldn't do a certain job." Ever since Estelle's accident when she fell while on an Alaska vacation in Skaggway on July 9, 1999 and severely injured her hand, she has been unable to do all the fine needlework that all of her friends and customers have come to expect. Estelle says, "I spend two and a half hours a day on my hand therapy and go once or twice a week to the doctor. Some weeks it's really a lot of pain."
Although Estelle's retired, it doesn't mean she's slowed down. When asked how she likes retirement she says, "Well I don't know yet. I haven't had time to find out, I've been pretty busy. I'm not the kind to sit around and eat Bon Bon's. I'm always awake at five or six but I don't get up till seven. I get up, have my shower and go. Get out of the house." Estelle still does some work for a few of her old customers, as she says, "Just to keep busy." She also makes Estelle's Bag Bags, "For the man who has everything and needs somewhere to keep it." Finally Estelle says she's still, "Finishing up all my hanging around things, going to the movies and visiting and hanging fun. The main thing I do is watch the Laker's games. I'm a serious fan."