It was just after Dillman's Restaurant was sold to Mike Kim at the start of the 1990s when Rick Nami, Ron White, and Max Dillman came up with Friday's free lunch. A Guest Chef was invited to prepare lunch for 40 people. To cover expenses the chef was given $75.00. At first the lunches were sometimes fantastic as each Guest Chef was given a turn at preparing lunch, many times spending much more than the $75.00 out of their own pockets.
Some of the more memorable lunches were, steak with baked potato and salad, corned beef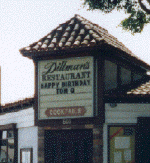 Dillman's Restaurant In The 1990s
and cabbage with baby new potatoes, and a superb bar-b-qued chicken.
And of course there were some
who took advantage of the situation. Like the time one Guest Chef went to a wholesale house and bought four large cans of menudo for $25.00, and pocketed a $50.00 profit.
Over the years the volunteers to be Guest Chef dropped to only a half dozen. Finally, Mama Kim, Dillman's owner, Mike Kim's mother, kept the Friday free lunch tradition alive with hot dogs and burritos.
When Dillman,s Restaurant was sold and the name changed in 1999 the free lunch finally ended.