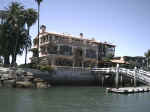 The Gillette House As Seen From Balboa Bay
Of all the houses on the Balboa peninsula, perhaps the most noted is the last house at the end of the Peninsula on Balboa Bay. The Gillette Estate. This was originally built in 1927 for King Gillette the razor baron. The most popular story about the house is that after the house was built; King Gillette died, leaving the house to his two sons. The sons feuded over the house and eventually cut the house down the middle to make two separate houses. The son who wound up with the house closest to the mouth bay then in spite, extended the front of his house several feet over the bay just to block the view of the other son's house.

The true story is King Gillette did have the house built in 1927. The only time he came to Balboa to stay in the house in the early 1930s there was a terrible storm that prevented him from getting to Balboa. Gillette then sold the house to a dentist who split the house into two the smaller houses and sold them.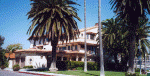 The Gillette House From The
Land Side.
Over the years many people have owned the main house, that is the house closest to the mouth of Balboa Bay.
One of the most noted owner's was Dick Dale of the singing group 'The Daletones' of the 1950s and 60. Dale was known as the "King of the surf guitar." Dale owned the house from 1976 through 1981 when he lost it in bankruptcy. While he owned it, it was common to see him bring his lion and tiger cubs down to the dock for a swim in the bay. Over the years Dale would start remodeling projects around the house and never finish them. He would remove a wall here or a window there, and then go on to something else. When the house sold after his bankruptcy, it was put on the market as a 1.25 million-dollar fixer-upper. Today the house is worth over two and a half million dollars.