On June 12, 1931, after almost 15 years of delays, construction was finally started on the on again-off again Corona Del Mar Tunnel- a lifelong dream of city founder Fredric Newport- in spite of the serious reservations of the U.S. Army Corps of Engineers. The tunnel was to run beneath Newport Bay from the end of the Balboa Peninsula to what is now the Corona Del Mar State Beach. With a funding of only $834,000, there was very little room for error in design or construction costs. Even with this knowledge, corrupt officials couldn't keep their hands out of the cookie jar, and sand was substituted for cement whenever an inspector's head was turned for a few dollars.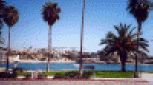 Today the location of the tunnel entrance is the West Jetty Park
at the end of the Balboa peninsula with Corona Del Mar located
across the bay.
looked like the tunnel would be finished by early summer. Fees would be 15 cents for car and driver, plus five-cents for each passenger. Trucks would have to be banned, because secret knowledge of the weakened concrete caused fears that their vibrations could cause damage to the tunnel.
Then on March 10, 1933, the Long Beach earthquake hit. The Corona Del Mar Tunnel crumbled like dry cake and vanished. Officials jumped on this chance to cover up their actions. The few remains of the tunnel were immediately destroyed, and the matter was written off as an act of God. There was a weak attempt at a Grand Jury Investigation, which blew over quickly, mainly due to the ever-increasing interest in the war clouds growing over Europe. The Corona Del Mar Tunnel, then quietly faded from history.