Balboa Market's New Owners Promise To Keep The Customers Feeling Like Family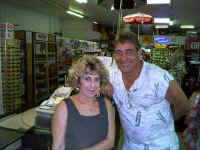 Balboa Market's new owners,
Maggie Allison and Norby Ingla
Norby Ingla and Maggie Allison have been friends for almost eight years. Their friendship started when Norby - a native of Buenos Aires, Argentina - sold Maggie -a California native - a used car, and then a second one.
Maggie's background has been in catering, Norby's family has been in the large supermarket business which gives him a familiarity with the business. The two partners were looking for a business venture when they discovered the Balboa Market. One of the things that sold them on the market was as Maggie puts it,"It's a very nice little beach area and I think we'll do well. I love it, the people seem to be nice and friendly down here."
When asked what changes they plan to make at the market, Norby said, "Re-new, make better. Make people come in. Lower prices. Make the customer feel like family." One of the improvements Norby has in mind is, " We're planning to put in tables and chairs for people to sit and read their paper and have their coffee."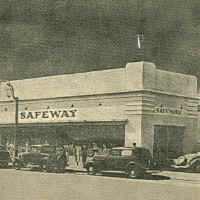 In 1938 the market opened as a
Safeway Market
Tight Lipped
It was July 1994, when Dee Williams cracked a fingernail and tried to use some super glue to repair it. But Dee made one big mistake. Instead of using a pin to free the end of the tube she bit it and wound up getting glue on her lips. Needless to say the talkative Dee's mouth was glued shut. Dee immediately started flushing her lips with warm water. After about fifteen minutes Dee was able to get her lips apart. Dee's husband at the time, Tom, recalled, "Those were the happiest fifteen minutes of my married life."
Blast From
The Past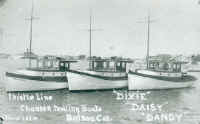 Balboa's First Fishing Fleet, 1925
This is a picture of the first charter fishing fleet in Balboa. The boats were built for J.B. McNally by August Hansen at a shipyard that was at the end of 21st St. in Newport. Later they built him the Dandy II and the Dundee as well as all the wooden rental motorboats for McNally and Vallely Boat Rentals.
More
Walk Zone?
Viewer Email
Jim, what a neat way to honor Marion [Sept, 00]. She's a sweetheart allright!
Loved the pics of the "Walk Only" area. Yea, right no bicycles.
Another good piece. Tom O'Loughin
balboatom@home.com