THE NEWPORT LANDING BELLE
The Newport Landing Belle was launched on September 27, 1994, and has been delivering fun to Balboa visitors ever since.
This stern wheel paddle boat was designed from an old original drawing of a packet type Ohio river boat, a small freighter of its day. Custom built by the Stern Wheel Boat Company of Parkersberg, W.V. to meet all Coast Guard requirements. As much wood as feasible was used to insure the boat would be as authentic as possible.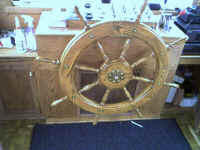 The Belle's steering wheel is
made of traditional red oak
The 26 ton, 66 foot boat was trucked from West Virginia to the Newport Harbor Ship Yard and launched with the use of a travel lift. With a capacity of 57 passengers, Jim Watts, the owner, stated in 1994 that he planed to use the boat for private parties, cocktail cruises, and even dinner cruises in association with Newport Landing. Jim says, "I've got all kinds of ideas, but sometimes the timing overlaps." Jim further states he would like to include some harbor cruises if possible. The addition of a banjo player, or even a Dixieland Band for atmosphere is under consideration. In keeping with as much authenticity as possible, the boat's lower deck has an old style type of "Bull Railing," which was originally designed to be removed for the loading of cattle. In accordance with tradition, the paddle wheel is painted red. Any color other then red is considered bad luck. And the steering wheel is made of traditional red oak. Jim believes the Newport Landing Belle is the only true rear paddle wheel boat in operation in the Western United States.
80th Anniversary
Our Newport Beach Library is celebrating its 80th anniversary and is preparing an anniversary card with the signatures of all the library's patrons to be presented to the City Council at their November 28, 2000 meeting. If you have not yet signed this card, please go to any branch of our library and show that you care with your signature.
Balboa 5K Run


Winner Jaime Carillo Is Number 572
At The Left Front,.
The Second Annual Balboa Performing Arts Theatre 5K Run For The Arts was held on Saturday November 28, 2000, with 385 entries. Winner was 21 year old Jaime Carrillo who finished in 16 minutes 34 seconds.

Vote Tuesday
November 7th
Remember, if you don't vote
you forfeit your right to gripe.
Didn't Vote? Shut Up.
Blast From
The Past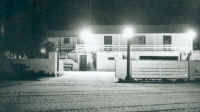 Snow In Balboa October 1, 1949
This photo was taken by Frank Crocker, Balboa's first Fire Chief. Photo is looking south across Central Ave ... this home was located at the corner of G Street and Central Avenue (now Balboa Boulevard) right where Miramar Drive veers off.... it was torn down in the 70's and in it's place 3 homes were constructed.... The Crockers lived across the street from that place on the north side of Central....
X Marks
The Spot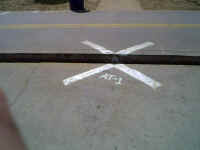 If you've been wondering what the large letter X has been painted in the streets is for, here's the answer. They're for the aerial photo-mapping that is now going on. Map makers use these markers to align the different photos.
In Memorial
Ray Handy
3/24/29 - 10/21/00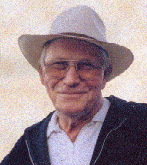 Ray along with his wife Dorothy, owned and operated the Fun Zone Boat Co. Ray was responsible for acquiring the Glass Bottom Boat, M.S.Phoenix from Avalon and bringing it to Balboa. He was well liked by everyone who knew him, and will be missed by all. A memorial service will be held aboard the M.S. Phoenix at the Balboa Fun Zone on Saturday, November 4, 2000 at 11:00 A.M.
Words Of Wisdom
"You'll be entering a cryogenic chamber where you will be frozen until such time as you can be revived and brought back into society to serve a useful purpose." Things they tell turkeys.
Mr. Boffo