Having just celebrated their 75th anniversary, church pastor Msgr. Daniel Murray is now preparing to publish a new book about this church's remarkable history.
Before Our Lady of Mount Carmel Church was built in 1923 Catholic worshipers had to gather in homes or take the Red Car the Huntington Beach to attend Mass.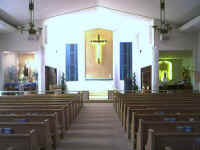 The warm church interior invites worshipers to attend the celebration of the mass.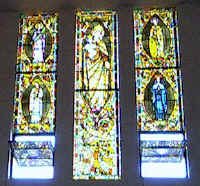 Stained glass windows were originally called the 'bible of the poor'.
The church's stained glass windows were commissioned in 1963 and executed by the Walter Judson Studio. Mastercraftsman Paul Phillips - whose name is etched in the window in the vestibule of the church- used a hundred yards of lead to join the various parts of each window. Rather then using large slabs of glass for these beautiful windows, the smallest pieces were used, some as small as a quarter inch.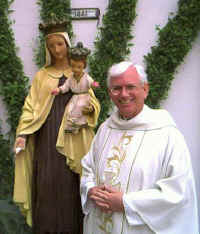 Rev. Msgr. Daniel Murray, Pastor,
Our Lady of Mount Carmel Church standing next to a statue of
Our Lady of Mount Carmel
Msgr. Murray is now in a desperate search for old photos of this church's early past for the new book which has been tentatively named, "The Story of Our Lady of Mount Carmel," A Church On Balboa Peninsula. The publisher is The Castle Press and the book is scheduled to be released in December 2000. If you have any old photos of this church, please call Msgr. Murray at 673-3775. He'll be glad to here from you.
Balboa Wallpaper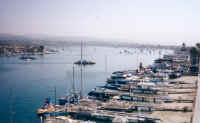 Now you can have this classic Balboa Bay scene as wallpaper on your desktop.
Just click here and follow the instructions
Blast From
The Past
The Dredging Of
Balboa Bay 1935
A tip of the hat to Luther Crocker
for these fine old photos.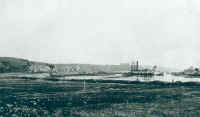 Dredger John McMullen.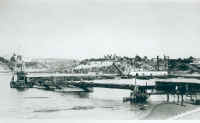 Dredging near the mouth of Balboa Bay.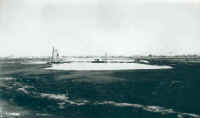 Dredging near what is now Lido Island
Balboa Mural Panorama
See The Balboa Mural, Photographed As You Have Never Seen It Before
Viewer Email
Jim, you keep exceeding yourself on these front pages! The Merry Go
Round is superb as well as the other items.
Tom O'L.
balboatom@home.com