Upon arrival in Avalon,
a golden spike was ceremonially driven into the beach.
On September 7, 1963, The Balboa Island Sculling and Punting Society inaugurated the maiden voyage of the "Long Beach & Avalon, Ephemeral & Western Railroad." With all the mastery that the society was known to have, tickets were issued and a vintage 1914 Pullman car was loaded on a barge in Long Beach.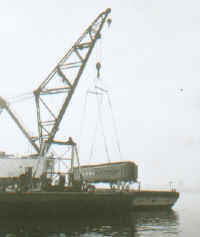 A Vintage 1914 Pullman Car Was
Loaded On A Barge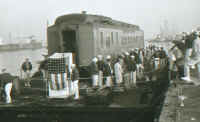 The Train Departs Long Beach
All the provisions needed for the trip (booze, food and booze) were stocked aboard the train for the 24 hour trip. It is rumored that after the train departed it was discovered one very important item was forgotten, toilet paper. A light plane was dispatched and a case of toilet paper was dropped on the barge.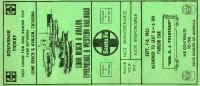 Tickets Were Issued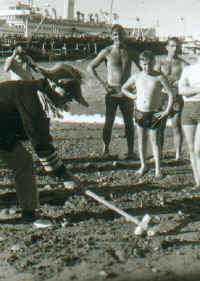 A Golden Spike Was Driven Into
The Beach At Avalon.
Upon arrival in Avalon, a golden spike was ceremonially driven into the beach. Dick Shaw pointed out some of the firsts this new railroad offered. It was the first railroad to have life preservers under the seats, and the first to offer fishing tackle as standard equipment.
Words Of Wisdom
"Those who cast their vote decide nothing. Those who count the votes decide everything."
Josef Stalin
Blast From
The Past
This wonderful old photo was sent anonymously to the Balboa Branch Library the end of November. It appears the photographer was standing with his back to what is now the Studio Cafe on Main Street. The Balboa Inn is across the street on the left. The drug store on the far left corner is now the Orange Julius. The Penny Arcade is now the parking lot behind the Orange Julius. The men in uniform and the USO sign indicate this photo was probably taken during the Second-World-War. It is interesting that Main Street in this photo is a pedestrian mall with plenty of benches for seating, something that is now being considered for the revitalization of downtown Balboa. Judy Booth at the Balboa Branch Library would like to here from you if you have anything to contribute about this 'Blast From The Past'. Stop in and see her or call her at 717-3800. She'll be glad to here from you.
Bureaucracy
At Work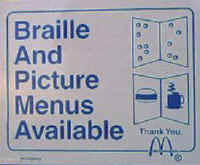 A classic example of the work of an overpaid bureaucrat with to much time on his hands. If you need a Braille menu you can't see this sign, and if you need a picture menu you can't read it.
Viewer Email
Hi Jim...
I am Linda Crawford, the daughter of Rolf and Ruth Laib at 416 E Bay. Thanks so much for the web site. When I need a look at my Balboa, I can call up my bookmarked Tales of Balboa and view the cam. Also I print a copy to send to Mom and Dad each month since they do not have computer. Keep up the great work.
Travis J Crawford
tcrawford@jps.ne
Jim,
Thank you so much for forwarding the inquiries about my old albums to me. We have begun the process of putting the old albums on CD, and what we have done already seems to be very good. I had one fan say "It sounded like I was sitting in the Prison of Socrates, and Tim was singing there live". I think after the first of the year we will be going into "production", although I really don't believe there will be that much of a demand. But I do feel a certain obligation to some very dear friends and fans that were with me through the good and bad times. Thanks again, and also thanks for being a friend to my mom.
Yours, Tim
TMorgon@aol.com