Once These Courts Of Little Yellow Cabins Covered The Landscape, Today They Are Only A Memory.
In 1925 Carl and Helen Stephens bought "Shady Nook," a small bungalow located on the alley corner of the triple lot located at the corner of Bay Avenue and Adams Street for $5,000. Carl then built Bayside Villa, a court of 19 little yellow cabins. Above the office door was a landmark cutout of a cocker spaniel with the words, "This Is The Only Pooch Allowed In This Court."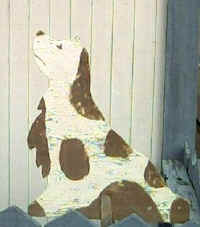 Although Bayside Villa is gone the "Pooch" lives on.
The single-wall cabins ranged in size from 80 square feet to 120 square feet. In comparison, a one car garage is 200 square feet. Most of the cabins had no heat or water, only outdoor toilets and showers. Wooden planking was used to make the narrow walkways between the rows of cabins.
Electricity was delivered to the cabins and bare bulb lights that hung above the walkways from open overhead wires running between the cabins.
During the 30s, 40s, and 50s, Bayside Villa offered affordable housing to Balboa's visitors, many returning year after year from all over the nation. By the mid 80s the cabins became low cost long term rentals, going for $200.00 a month.
"The Sheds," as the locals called them, were managed by Helen Stephens, who always wore a muumuu and a feathered hat, and was called the "Bell of Balboa" because she was Balboa's first telephone operator.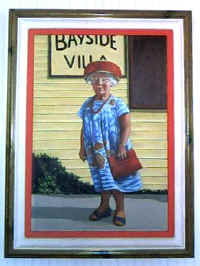 Helen's painting hangs in the stairwell
of Newport Landing Restaurant.
Helen's son, Edward, wrote the book "One more summer," a fictional accounting of life in a town like Balboa. Most of the charters in the book were based on real people in Balboa.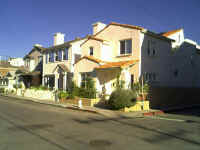 Bayside Villa was torn down at the end of 1986 and in 1998 these townhouses were built on the location.

Words Of Wisdom
Why do they put only 239 beans in a can of baked beans? Because one more bean would make it two-foarty.
Whale
Watching




The California Gray Whale makes the most spectacular and longest mass migration of any marine mammal. Gray Whales Migrate Annually along the west coast of North America from the summer feeding grounds in the Bering Sea to the winter grounds of the Baja California lagoons and back again along the Orange County coast during the months of December, February, March, and early April. Balboa's Sport Fishing boats offer Whale Watching Cruses so that children and adults may thrill at the sight of these magnificent mammals as they pass along the coast. For further information contact:
Davey's Locker
Newport LandingSport Fishing
Newport Whale Watching
Blast From
The Past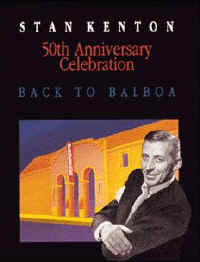 Click To Go To A Tribute To
Stan Kenton
The Rendezvous Ballroom
"Queen of Swing"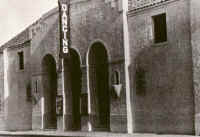 Click To Go To A Tribute To The Rendezvous Ballroom
1949 Balboa
Bay Panorama
The picture below is only a very small portion of the full 1949 Balboa Bayfront panorama photo mural.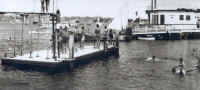 Click To See The Full Photo Mural

Viewer Email
Hi Jim
Just wanted to let you know your site gets better and better - I have a rental now and am listing it through the rental site you link to. Your photography is great. One of these days I am going to give up one of my
other two day jobs and spend more time on my site. [ http://www.balboa-island.com ]
Thanks for all your help
Carolyn Carr
ccarrcomm@home.com
Hi,
I wonder if anyone there remembers the folk singer, Tim Morgon, and where he might be these days. He was a headliner at the Prison of Socrates during the 60's.
I would especially like to know if the film he made (Prison of Socrates) is available anywhere, and if any of his other performances are available on film. I'd also be thrilled to hear from anyone who, like myself was a huge fan. Thank you very much!
Larry Piller
Backerfind@aol.com