"So People Can See The
Beauty Of Balboa"
Norby Ingla

When Balboa Market owner Norby Ingla decided on a mural for the market's back wall he called on his old friend Hector Ponce, a native of El Salvador.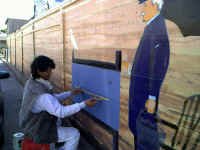 Hector Ponce At Work
On The New Balboa Mural
Hector, now 47, has been painting murals and advertising since he was a boy. His work can be found all over Los Angeles County. From restaurants to mini-marts, Hector leaves that unmistakable mark of his style. Hector works at a hectic seven-days-a-week. pace, doing over 70 major jobs a year.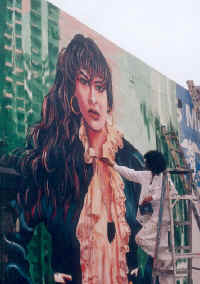 Here Hector Is Painting A Mural Of The Late Singer Selena On A Wall Of A Photolab In Westlake Village
Hector's son Levi, age 13, helps Hector on weekends and when he's out of school.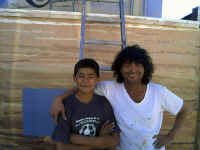 Hector And His Son Levi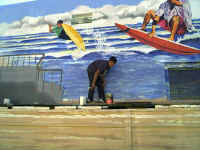 Levi At Work On The Mural
Norby decided the market's back wall need a face lift especially because it faces the Fun Zone and visitors coming down the back steps should have something to remind them about Balboa other then to see an ugly wall.
Norby also wanted the mural to complement the Balboa mural on the market's west wall. And you can see the cleaver approach Hector took in wrapping around the basic sand design of the mural.
Norby feels, "We need to make a change in Balboa." and puts his money where his mouth is by laying out over $3,500.00 for this mural.
Old Photos Needed
Please help me find photos of Peter Stewart and Digger Dean Dempsey. I need them for upcoming stories.
Thanks, Jim.
Blast From
The Past
Then And Now
Three Pictures Taken At The Same 21st Street And
Oceanfront Location
Over a Period Of
Almost A Century
Viewer Email
Hi Jim.
Just discovered your weather page. Thanks for your wonderful contribution.
Laurie and Jim
4laurie@home.com
You have done a marvelous job with your website - better than the City's, as far as I am concerned.
I used to live at 406 E Bay and remember the bungalows well.
Appreciatively,
David Lynn-Hill
zooport51@aol.com
Hey Jim,
Just to keep you informed. I have put together a web site for my old albums.
It's not functional at this time, but we are getting close.
It is www.timmorgon.com
Hey, thanks for all your help, if I can be of any assistance please get back to me. I
have receive many good compliments about "Tales of Balboa". Keep up the good work, Tim Morgon
TMorgon@aol.com
Does anyone remember/know what became of Glenn Martin? If that doesn't
ring a bell, he was the local psycho who bore a distinct resemblence to the comedian Sam Kinnison.

Total wacko, he used to attack trash cans when he was in a bad mood. He intimidated the hell out of the tourists, wore black clothes and trenchcoat long before it became a "fashion statement".

But we all kind of got used to him. His grip on reality came and went, sometimes he was almost lucid. He never attacked anyone though, that always surprised me.
He was around for years and then just disappeared. My tactic when he
came into the arcade was to humor him and gently escort him out the
door.

Speaking of psycho's, remember Richard Ramirez, the Night Stalker?
He came in the Playland Arcade once. I'll see if I can find what I wrote about that experience. Of course, at the time I had no idea who he was, but I knew something was really bad there. I don't know if there is a place for that experience on your web site but it is a little slice of Balboa history.
Alan Sandoval Playland Arcade
alan@intertrader.net

Words Of Wisdom
The early bird may get the worm, but it's the second mouse that gets the cheese