Astronomical High Tides Of Over 8 Feet And Heavy El Nino Storms Brought A Reign Of Flooded Streets To Balboa.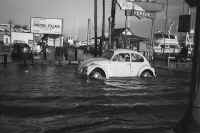 The first few years of the 1980's will be recalled as the wettest in memory. With super high tides and a never ending string of El Nino storms, Balboa's streets were in an almost constant flood stage.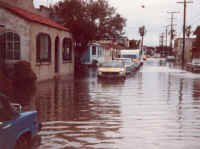 Alan Sandoval recalls, "Having a business in the "lowlands" of Balboa was always an adventure at high tide.
My family owned Playland from 1957 till 1992, so I pretty much grew up there. When I was a kid it was fun to root for the tide to see how high it would go, when I got older and had responsibility it became less fun.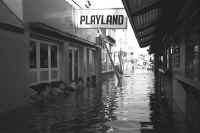 The Maddy family who owned the Bay Arcade and my family, owners of
Playland, were probably the most concerned by these events. We all watched the tide calendars closely and we always reminded our neighbors of predicted events.
Most of the time a 7'+ tide was not much of a problem. It would usually just crest the sea wall and get close to our doors. But it isn't an exact science. A tide of 7' could cause major problems or it could be a non-event."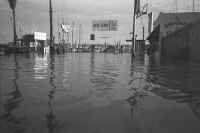 Words Of Wisdom
"First things first, but not necessarily in that order."
Dr. Who

Blast From
The Past
Then & Now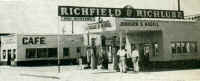 1931



2001

The corner of Balboa Boulevard and Island Ave. When the Richfield station was opened in 1931, Balboa Boulevard was called Central Avenue. This intersection was known as East Newport, and was the first stop out of Balboa on the Red Car.


Viewer Email

Since my family owned a beach house on 28th street, I grew up with Balboa as part of my summer experiences. At 35, I still remember the old Balboa Fun Zone. I remember taking car trips across the bay in the Balboa Ferry, eating a frozen banana and trying to win cheap candy on on the penny arcade's nickel claw machine (none of this at the same time, of course).

I remember The Chipyard, started by two, teenagers in Balboa sometime in the 70s. Funny thing is, when I went to New England last year to visit my family, who now lives there, we took a trip to Boston and visited Faneuil Hall Marketplace. The Chipyard was there! In their window they had a newspaper clipping from the Register that told about their start in Balboa's Fun Zone. What a small world.
My father gave me your URL. They live in New Hampshire now, but they love logging on to your site to remember their Orange County roots. Great Web site! My wife and I don't live very far away, though (We live a block from South Coast Plaza). I'll be back lots.

Michael White
Freelance writer/editor/proofreader
brickbatz@earthlink.net

Jim,
Thanks! You have a wonderful site. I bet lots of people love to recollect their old memories.

Vic
valkana@ix.netcom.com

Great site and pics. I grew up in OC and I remember during the summers in the late 40's or 50's there use to be an event in Balboa. I think it was called Pirate Days but not sure. As a kid I remember there being an event in front of the Rendezvous where they would bury wooden ducks with numbers on them and bury them in the sand. The kids would run out and dig up ducks and turn them in for prizes. I believe they also had a prize for the best beard.

william white
wawhite@worldpath.net