Purchased For $25,000, It Cost Another $80,000 To Restore This Merry-Go-Round To Its Original Condition
When Balboa Fun Zone President Joe Tunstall and Vice President Bob Speth began looking for a Merry-Go-Round for the new Fun Zone they traveled to the closed theme park called Santa's Village in Scotts Valley located between Santa Cruz and San Jose California. There the pair discovered the remains of the old Santa's Village Merry-Go-Round. It had weeds growing through it, mice crawling all over it and two of the original horses had been stolen. Bob Speth recalls he almost fell through the old Merry-Go-Round's rotten oak deck. They paid $25,000 for the Merry-Go-Round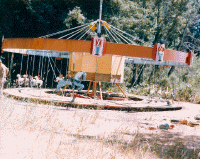 The old Merry-Go-Round
was in total disrepair.
To restore the old Merry-Go-Round, Dena Morgan - son of Ed Morgan who had originally built it. - was engaged for the job. The Merry-Go-Round was disassembled and taken to Morgan's facility. According to Speth, "Everything was replaced except for the frame." Because the molds for the original aluminum horses were long gone, new molds had to be made in order to produce replacements for the two missing horses.
To replace the Fun Zone's Merry-Go- Round with a new one of the same quality it would cost well over a quarter of a million dollars.
Ever since the new Fun Zone opened in 1986, free ride wooden-nickels have been handed out throughout Southern California to libraries as rewards for children's reading programs and to schools for incentive programs for students. To date over a million free ride wooden-nickels have been handed out.
Over 180,000 people ride the Merry-Go- Round each year. About half ride free, either with a wooden-nickel or an adult riding free with a child.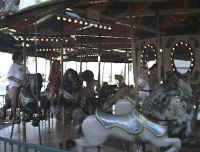 According to Bob Speth, "A ride on the Merry-Go-Round will make you a year younger."
Goodbye To Alfi's Cafe
After 6 Years A Landmark Balboa
Eatery Bites The Dust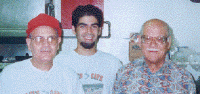 A fond farewell to the Alfi family
Click To See Alfi's Stories
Alfi's Cafe The Christmas Dinner

A Blast
From The Past
Frank Crocker,
Our First Fire Chief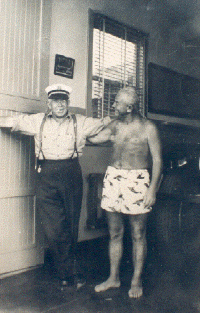 (L)Fire Chief Frank Crocker, first Fire Chief. (R)Gus Gus Tampolis, a popular local man who taught many of the children to swim . This photo was taken on June 6, 1949 at Fire Station #1 in Balboa, now the trash collection area next to the public restrooms located at Bay Avenue and Washington Street.
Viewer Email
dear Jim my name is mike, I used to walk by your apartment all the time and you would be sitting out side enjoying your day. you might remember me better as Jake's owner the tan and white pit bull/boxer mix. we would always walk around Balboa together, until julie Lewis took him to Tucson.well back in 98 I moved to Oklahoma to start a company. I did plan on moving back, but I met a wonderful girl,coincidentally named julie, we were married in June of 99, and now we are expecting our first child. I just want to say that your site is great. I miss Balboa so badly, and it was nice to go back for a visit and read about all my old friends on your site thanks for doing such a fine job, you really have captured the heart of balboa.
yours truly

Mike Tribbett
mjdastolfo@home.com