The Great Depression brought an end to the
Bank of Balboa when a run was made on the bank in February of 1932.
On September 27, 1922, George Edwards opened the Bank of Balboa. In 1927 the bank was reorganized and the board of directors read like a "who's who" of Balboa.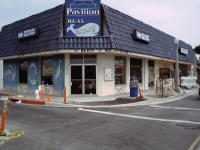 The original home of the
Bank of Balboa.
The bank's headquarters was originally located on the northeast corner of Central Avenue (now Balboa Boulevard) and Washington Street Now occupied by Pavilion Real Estate, the old bank vault is still one of the back rooms of the business next door.
In 1928, a new building was built on the southwest corner of the same intersection at a cost of $50,000.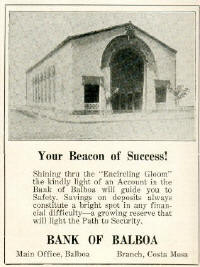 A 1930 Bank of Balboa ad.
The Great Depression brought an end to the Bank of Balboa when a run was made on the bank in February of 1932.
Wrong doing by the bank directors was never considered, and in fact all of the bank's depositors received fair market value for their accounts. But due to a State law, bank failure decreed that the bank's officers and directors were to be assessed 100% of the cost of their stock. This means the Bank's officers not only lost all of their investment, they were also required to pay that amount again to the State of California. Doubling their losses. Charles TeWinkle and Joe Beek were the only two officers able to pay these assessments.
In 1934 the Bank of Balboa's building was sold to the Bank of America for $27,000. By the mid 1980's, Bank of America moved out of this location and a few years later the landmark building was leveled to make way for the store fronts and apartments that now occupy this location.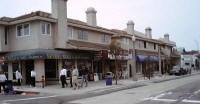 Today the location of the Bank of Balboa is occupied by modern storefronts
and apartments.

Words Of Wisdom
"You can get more with a kind word and a gun than you can with a kind word alone."
Al Capone
The New Mural
Live Balboa Cam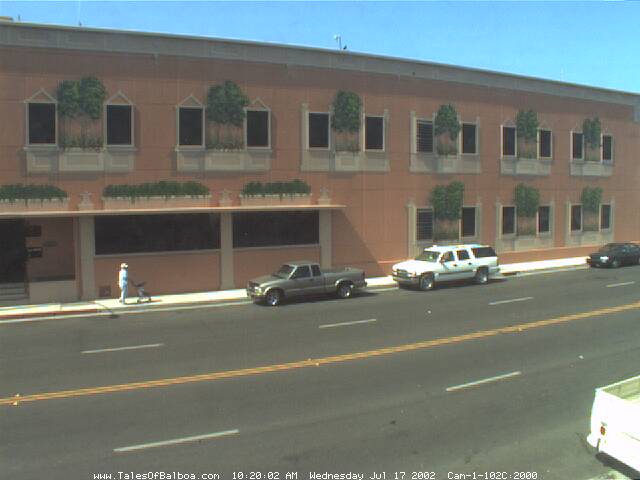 Watch Evan Wilson's new trompe
l'oeil mural being painted on the
Pac Bell building on Balboa Blvd.
Time Capsule
Sean's Arrest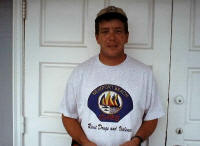 Sean Donegan
It was around midnight on a summer night in 1993 when Sean Donegan was the bartender at Snug Harbor, a popular drinking establishment of the time.
As he was walking home, or as Sean words it, "Trying to walk home," after a night of drinking he was spotted by the police and arrested for being drunk in public and taken to jail.
Sean was just sober enough to know he needed a lawyer and drunk enough to make a scene about it. While in his cell he kept yelling he wanted his lawyer over and over again.
Suddenly Sean heard a voice calling out, "Sean is that you," to which Sean replied "Who is it." The voice answered, 'It's me, Frank Coyle your attorney." Sure enough, Frank was two cells down from Sean.
After that Sean decided to be quiet the rest of the night
It was for reasons like this that Sean is no longer a drinker.
Viewer Email
I would like to know what happened to the plack in front of the Balboa pier. Harry H. Williamson, I'm his grand daughter, and my family would really like to find out.
Thank you-- Love your site- Pat
paddee@juno.com
Dear Jim,

I came across your article on Rolf Laib [June 2001] while I was searching the Net for information on my uncle Sgt. Rudolph B. Williamson. He was in the 405th Squadron - 38th Bomber Group. He was lost over the Admiralty Islands in February, 1944.
My research on my uncle has provided me with a huge lesson in history. These
men should be honored for their heroic efforts during this troubled time.
Please convey to Mr. Laib my sincere appreciation and gratitude for his service to our country. And I'm glad he made it home!
Theresa Green
reece24@bellsouth.net
I'm planning on visiting the Island on the 21st of April. What are the things that are a "must see"? Thanks for your assistance.
Becky Merager
BECKY.MERAGER@lw.com
Jim, I truly enjoy your website as it brings back so many fond memories. As a young teenager in the mid-1970s, I lived in Costa Mesa and worked for $1.75 per hour at Art's Landing (now Newport Landing) as both a dock hand and occasionally as a deck hand on the half-day boats.
Now I'm in the Navy and stationed in Sigonella, Sicily. Visiting your site has made me all the more determined to take some leave in California and revisit my roots.

Sincerely,
Chief Petty Officer Art Hansen,
U.S. Navy
ahansen@ctonline.it