"...It takes a lot
of bait to make everyone happy."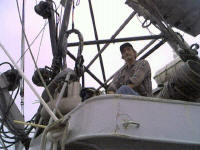 Pamela Rose Skipper, Lee Coffman.

Many of us have seen the Pamela Rose, delivering bait to Newport Landing and Davey's Locker every morning.
This 58-foot, 18-ton, commercial fishing boat was built in 1985 by the Peacock Family in Wilmington, California, for her owner Steve Grayshock.
Skipper, 52-year old Capt. Lee Coffman, involved in commercial fishing for 30 years, recalls starting at age twelve for five dollars a day. The next year he was hired on as a full crew member at $50.00 a day.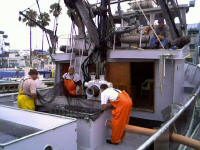 Crew prepares to transfer bait to
the holding tank.
Lee says of commercial fishing, "We have to make three tons of live fish every day to stay even. It takes a lot of bait to make everyone happy." On the summer schedule, February through September, the Pamela Rose leaves daily in the wee early hours, with her crew of five, and as Lee puts it, "I try to get done by ten in the morning. Until the tanks are full, we don't come home." The shortest time out was a record three and one half hours, the longest 54-hours. Bait is measured by scoops, or tons. The Pamela Rose has a capacity of 450 scoops or about three tons.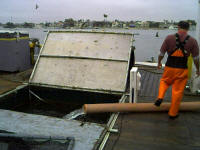 Bait being transferred to the
holding tank.
The Pamela Rose has the smallest fishing net used on the west coast, 600 feet by 150 feet. By comparison, the largest net in use is the "Epco's" out of San Diego with a capacity of 2,000 scoops. Her net measures, 1,800 feet (1/3 mile) by 300 feet. During the winter season, October though February, the Pamela Rose is engaged in commercial fishing out of the area.
Barking Spider Alert

With the onset of each summer more and more sightings of the Balboa Barking Spider are reported. This innocent enough spider is noted for its loud bark and terrible smelling breath. Although you rarely see one, the barking spider can be identified by its bark which sounds like a person passing gas, and its breath which has an aroma similar to the same. The biggest problem with the Balboa Barking Spider, is innocent people being blamed for passing gas in public. So the next time someone points the finger at you, point out the Balboa Barking Spider.
Words Of Wisdom
Marriage changes passion...
suddenly you're in bed with a relative.

.In Memory
Wayne Moses
Mr. Balboa
Died June 19, 2002
Balboa Pier Update
Although not completely finished, Balboa Pier is now open to the public. A "Salute to Summer" 3-day celebration starting on June 21, the first day of summer, will mark the official re-opening of the new pier. The celebration will feature live music, sidewalk sale, food and much more. Go to the official BMOA web site for details.
www.balboanewportbeach.com
Lynne & Carl
On The Road
A New Feature
Click To Read
Time Capsule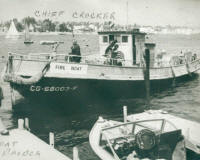 First Fire Chief Frank Crocker
aboard city's first fire boat in 1948.
Viewer Email
Dear Jim
I felt so fortunate today to discover you, and all that you have done on your website. You may know a fellow by the name of Donovan Martin. He gave me your card today and I couldn't wait to get online to see your site. The reason it was so important to me, is that I am an original beach gal from the shores of Balboa. I now live in Huntington Beach. My family moved to Balboa when I was only 5 years old. My history dates back many years of living, loving, tanning, swimming, walking, schooling, and playing in my old hometown, Balboa. There isn't another place like it in all the world.

It was a blast looking at the old map, and my memory took be back to the good old days. I love Balboa, and I have many stories and interesting tidbits to tell you about. If you are interested in contacting me, I would be thrilled. I hope I may be able to answer some question you may have too. Thanks to Donovan, I will now be able to go back in time by looking at your site. I can't believe I shopped at The Bay Department Store, had hoagies in the Fun Zone, watched movies at the Balboa Theater, and went to school at Newport Beach Elementary School. So many things to recall.
I would love to hear from you. Thanks Jim, and respectfully,
Stephanie
ARTchee@msn.com