"I Played at Disneyland when I was sixteen, that was my first real break."
Rooster Perez, a 54-year old native of Anaheim, represents three-generations of musicians. His grandfather was a drummer with the big bands and played at the Rendezvous Ballroom many times. Rooster, a nickname given to him by his grandmother - his real first name is Arturo- says in the mid 1960s he earned, "My first four bucks when I was eleven-years old, [playing] drums for my uncles band. I played at Disneyland when I was sixteen; that was my first real break."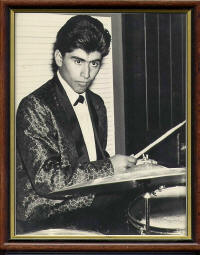 Rooster performing at Disneyland
at age sixteen
During the mid 1970s Rooster was playing with the Righteous Brothers and for CBS-Epic records.
In 1979 Rooster went on a two-year tour throughout Europe. Posters from this adventure adorn the walls of his small East Bay Avenue studio. After that Rooster accompanied Chuck Battaglia for five-years throughout Orange County, Las Vegas Nevada and our own local Studio Cafe.
Rooster has also preformed with Papa Bear at the Villa Nova in Newport Beach and with Bill Medley of the original Righteous Brothers in their Two-For-The Blues-Show.
Today you can see Rooster and The Misbehavin Band at the New Village Inn on Balboa Island, every Sunday; 4:00 PM to 9:00 PM, and Wednsday;7:30 PM to 10:30 PM.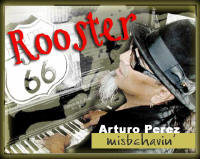 The cover of Rooster's new CD
Rooster has just released his new CD, "Rooster-Misbehavin." It's available at the Balboa Market and other selected local retailers. Rooster will also be making a road tour throughout the west including Las Vegas to promote his new CD. To get more information about Rooster's new CD you can go to his web site;
http://misbehavinrooster.com/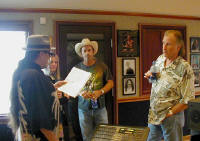 Rooster going over the backing vocals for his new CD with Jann Browne,
Chris Gaffney and Bill Medley.
Words Of Wisdom

"Suppose you were an idiot . . . .
And suppose you were a member of Congress . . . . But I repeat myself."

Mark Twain

Time Capsule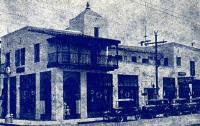 Balboa Marine Hardware Co., 1930.
806 Central Avenue, Now Balboa Blvd.

Viewer Email
Hi Jim,
I'm glad you have this site. It is from here that I can keep an ear open to Balboa. Unfortunately sometimes it's sad news. I'm sad to here of the passing of Mr. Balboa, Wayne Moses:
Wayne was definitely a local. I looked forward to talking about the town and its people with him. He always asked me "how is your mother", and "is it busy at the taffy store?" I always got bubble gum after my haircut, until I got too old. My son (who has been getting his haircut from Wayne for the past 7 years) always gets bubble gum.
He had many loyal customers. There was always someone before or after me I recognized. I went to Wayne for a haircut 4 to 5 times a year. I'm 38 now and I started going to him when I was 6 or 7 years old. I only went to another barber twice since then, and only because I was too far away from Balboa at the time.
I can honestly say I knew my barber and will miss him. I am now looking for another barber, but will not settle for a "Supercuts". I want to find a nice gentleman, who enjoys his customers and his work. I want to find some one like Wayne Moses. I hope I still can. He was definitely an important part of Balboa and will be missed.

Dennis Mifflin
Dennis@sendtaffy.com
hi, i just saw your website (linked from reddick's latest message). my parents owned the Florence Bakery on the corner next to the Pavilion for many years. before that my mother managed the restaurant in the Pavilion. we leased space between the bakery and the Pavilion to a family who had a very popular mexican food stand during the summers. i remember the bakery's phone number as being Harbor 32 in the '40s. does anyone remember Pop's, arguably the best restaurant in balboa? how about Vi's Pies, where vi made great pies and where my dad, a baker, used to sneak to for pie and coffee? how about 'the walker,' a war vet who used to walk balboa streets endlessly and was known by all? i'd like to see an article on the Rendevous Ballroom, balboa's main entertainment attraction, where the Dorseys, Nat King Cole, Kenton and Christy and many more great orchestra played during the summers. the kids from east L.A., who could REALLY dance, used to come to the Rendevous on weekends and show us how real swingers danced. i remember balboa being so sleepy in the winters in the '40s that you could stand in the middle of the main street-balboa boulevard intersection and never fear being run over. anyway, i have many great memories of balboa in the '40s and '50s. ah, just had another one--as a kid scraping the mussels off the bottoms of the L.A. 'rich' folks' boats, docked at their summer homes over the winter, for a quarter an hour every spring. back then no one was smart enough to gather the mussels to eat; they were bait! glad to see you're gathering balboa history. it was a wonderful place to live as a kid during those days. sure like to see your map of old balboa with the names of the many businesses in more readable type/size. and loved your moving picture of the ferris wheel. reminds me of Don's Frozen Bananas. a great guy and employer of many of the local kids.
joel leonard (newport harbor '53)
jleonard@olympus.net