The Idea Came From A James Bond Movie
When Jean Michele Ducancelle saw the James Bond movie, The Spy Who Loved Me, he was impressed by one of the final scenes where James Bond and the damsel depart in an escape capsule.
He set to work and designed the Anthenea amphibious housing. With the help of Swiss Financier Ernst Kenk he was able to bring his dream to life. Later famed designer Pierre Cardin came in with his substantial backing to form Les Anthenea.
Anthenea, derived from the Greek word Anthenon (blossom), invites us to a voyage of discovery to the "antipodes" water and land.
In 2001 production was started in Mt. Blanc Switzerland, and the Swiss government bought one of the first units for use as a tourist information center.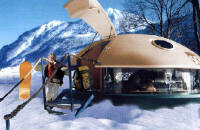 This unit is an information center
in Switzerland
When Anthenea President Alan Algan entered the picture, he moved the factory to the Mojave Desert. Assembly will be done at the Newport Harbor Shipyard. Sales will handled at the Balboa Fun Zone location where the first production model unit presently is located. Another larger model will be brought in later this month.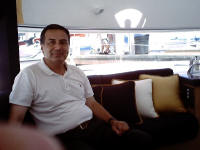 Anthenea President Alan Algan, in the first production unit now in Balboa.
There are three models planned. A 144 sq ft model like the one currently in Balboa which will sell for about $128,000.00. A 800 sq ft model with a loft for about $350,000.00 and a 1,700 sq ft commercial model, designed for use as restaurant or a small hotel with a price starting at a cool $500,000.00.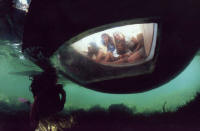 Underwater viewing windows are standard on all models.
For more information visit the Anthenea web site www.anthenea.com

Patriot Day Tribute
Wednesday September 11- Noon
Join our city's Memorial Tribute to the victims of last year's terrorist attacks.
Click For Details
Tree Poll Tally
From Last Month
Should The Ficus Trees On Main Street Be Removed?

Yes: 14
No: 42
I Don't Care: 4
In an ongoing effort to protect our health, city officials have ordered that runny noses be banned from the city. Above is one of the first signs - located on the sidewalk at the ferry landing on the peninsula - to notify the public that runny noses are now prohibited.

Words Of Wisdom

If a man standing in a forest says something and there is no woman around to hear him, is he still wrong?

In Memory
Venoa Morgon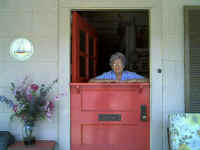 A Balboa resident of 47 years and
dear friend to so many, passed away
on August 26, 2002 at the age of 84.
Goodbye Venoa, we'll miss you.

This Month's
Balboa Events
Balboa Village Sidewalk Sale
Saturday-Sunday Sept 7-8
Last big blowout of the summer. Merchants hit the streets with their wares
Beach Blanket Bar-B-Q
Sunday Sept 8 - 12 Noon - 5PM
The Divas of the Balboa Theater 2nd Annual Beach Blanket Bar-B-Q. Pavilion Park at Balboa Pier. Great food, fun games. Contact Peggy Whitehead 949-673-5624

High & Dry
Boat makes land the hard way.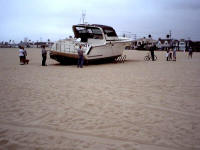 This 44-foot cruiser wound up high and dry, the evening of August 4, 2002, after the skipper put the boat on auto pilot at full throttle and went below to use the head. The boat changed course and went directly up onto the beach. No one was hurt, but the skipper and his passenger were taken away in handcuffs for being really drunk. It cost $30,000.00 to have a giant crane brought in to put the boat on a truck and haul it away. If you look closely you can see the boat is tied up to a bicycle rack that was next to it.
Time Capsule
Third generation local, Richard Vogel shares his photo album with us. One of an occasional series.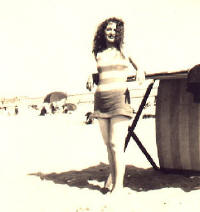 This is my grandmother, Mildred Vogel. The date is 1929. The location is next to the Balboa Pier. They lived on Montero next to the Robins family. My grandmother babysat Theodore Robins Jr. She also worked in the various stores that she and my grandfather had on Main Street and was well known there.
Viewer Email
Editors note; In the process of moving TalesOfBalboa files to a new computer system, the file containing all of the Viewer Email was lost. If your email was not published and you would like it to be, please send another copy.
Thank You
Hi Jim, I just wanted to say how much I love your web site. Just knowing that by a click of a web site and over 3000 miles away from your family you can be closer to them in know time. I live in Calgary, Alberta Canada. But my parents and brother live in California, they own and operate the "Harbour House Coffee". I have come down every year for the past 6 years now, first on my own and now with my children and husband. I look forward to seeing everyone again this September.
Thanks again for bringing us closer together.
Dana

Dana Duncan
Dana.Duncan@telus.com