Christian's Hut Was A Big Draw For The Hollywood Set Because It Was Owned By The Brother Of One Of Hollywood's Biggest Cinematographers.
In the late 1930s, Art La Shelle opened Christian's Hut, a Tahitian style restaurant and bar on the bay front, now the location of Newport Towers. Christian's Hut was noted for its great oriental style food, and was always being frequented by the Hollywood set. Red Skelton, Johnny Weismuller, Fred Mac Murray, and Howard Hughes to name a few. Joe La Shelle, Art's brother, was an Oscar-winning cinematographer, one of his more well-known movies was "The Birds."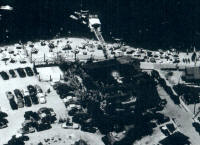 This rare circa 1945 aerial view shows Christian's Hut in its heyday.
Much of the Christian's Hut food was prepared in a big outdoor cooking pit. No one could figure out how the filet mignon could be crispy-charred on the outside and rare in the middle. One regular customer was told in confidence the secret was to first freeze the steak, toss it on a white-hot grill to sear it, then drop it into a deep fryer. The downstairs bar area had a sand floor which led all the way to the water where the patrons would beach their boats. The dining room was upstairs. Marshall, the maitre d', was given the nickname Francois, because he would kiss the hand of every woman coming in the door, starting at her finger tips and working his way up her arm all the way to her head. Marshall's daughter, Delores, was a beauty queen who married George Perlin, who owned the Richfield Station then located at the corner of Adams Street and Balboa Boulevard. George had the nickname "Beast" because of all his body hair. After the couple were married, they were given the nickname "Beauty and the Beast." Christian's Hut burned down in 1963.
Pumpkin Contest Winners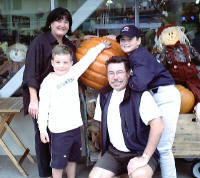 The Mac Innis family, from left,
Debi, Ian, Andy and Sean.
The Balboa Village Market's, guess the weight of the Big Mac pumpkin and win it contest was won by the Mac Innis family with a guess of 101 pounds. The actual pumpkin weight was 102 pounds.
Faces of Balboa



Click To Visit Faces Of Balboa
TalesOfBalboa's newest feature brings you the faces of the people who live work and play in Balboa. Everyone in Balboa is invited to be a part of this project, and have their pictures taken for this feature at the Balboa Village Market every Saturday between 9:00 AM and 10:00 AM. It's free, it's fun, it's virtually painless and it's politically correct.
Words Of Wisdom
"You'll be entering a cryogenic chamber where you will be frozen until such time as you can be revived and brought back into society to serve a useful purpose." Things they tell turkeys.
Mr. Boffo

Didn't Vote?
Shut Up!
For Rent
Balboa Rental Guide
Whether you're looking for a new place to live or have an apartment or house you want to rent, check out the free;
Balboa Rental Guide.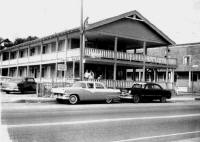 The Viking Hotel was located at the corner of Balboa Boulevard and A Street
Thanks to Mike Wallace for these
great old photos and information
from Balboa's past.
My names Mike , I finally went to see Balboa after over 30 years today .Parts of the fun zone are still recognizable but so many Apartments along the bay side now where I used to lay out in the sand n sun as a child .My grandparents used to own the Viking Hotel on Balboa Blvd or Ave ? one block east of Maine St. on the ocean side corner.
I met some old lady at an old store and she gave me the name of this web site . So I thought why not e-mail you a couple old pictures of the Viking Hotel which I think they demolished sometime between 1967---1969 ?
I hope maybe you mite put them on this web site or it can be shown somewhere as another old nostalgic bit of Balboa hotel history.
Thanks Mike
dwolfman@earthlink.net
Boat Races
Another photo from Dick Vogel's personal photo album.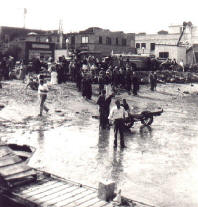 This is people watching boat races in 1932. They are on the beach between the Pavilion and what would later be Hill's Boat Service.
Viewer Email
I just read about the demise of the Grey Goose. So sad..but I'll always have my memories!
Debbie
dlynco@msn.com
Love the new [Weather Page] look. Enjoy the tales. I'm the idiot who sent the 2cts. about the planter in the middle of bal blvd.. Jim Johnson
SJJSUE@cs.com