This Balboa classic has been drawing folks from all over for nearly a century to see what has been called, "One of the Top 10 Holiday Happenings in the Nation."
This year will mark the 94th anniversary of the famous Christmas Boat Parade. More then 150 boats are expected to partake in the festival which will be seen by over a million people. This year's theme will be "Celebrating America With Lights." The parade will run from Wednesday, December 18, through Sunday, December 22. Be sure to dress warm if you are going to Balboa for this event, December 21 is the first day of Winter and the evening temperatures reflect it. For more information, go to;
www,ChristmasBoatParade.com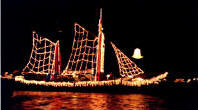 Over 150 boats are expected in this year's Christmas Boat Parade.

One of the best locations to see the Boat Parade is from the Balboa Fun Zone bay front.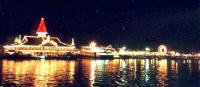 The Balboa bay front is always aglow
with the lights of Christmas for the
Boat Parade.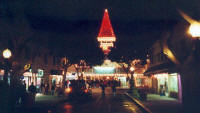 Even Main Street Balboa has it Christmas lights in place.
Besides watching the Boat Parade from the shoreline, you can ride in the parade on one of Balboa's many cruse boats or charter a boat for your private party. Boat rentals are also available . To find out more about what's available, click on these links. It's best to make your reservations early to make sure you get what you want, when you want it.

Balboa Boat Rentals
Catalina Passenger Service
Davey's Locker
Fun Zone Boat Co.
Marina Water Sports
Newport Landing Sport Fishing
Newport Whale Watching
Balboa Village Improvements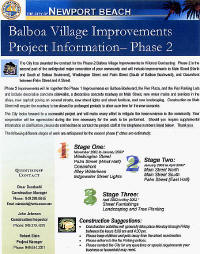 Words Of Wisdom
The main reason Santa is so jolly all the time, is because he knows where all the naughty girls live.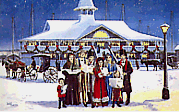 This series of paintings was made for the Balboa Pavilion by Susan Newcomb.
Time Capsule
Another photo from Dick Vogel's personal photo album.
Circa 1932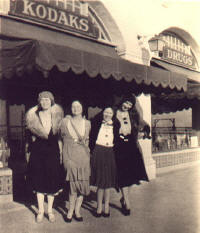 These ladies are on the ocean front sidewalk in front of the Breakers Pharmacy located in the Balboa Inn. The woman on the left in my grandfather's sister, Elizabeth Pattberg.
Viewer Email
Dear Jim,
I thought your readers might enjoy the attached story I wrote years ago when my Father, Joe Walker, used to own Blackies-by-the-Sea on the oceanfront in Newport Beach. My dad passed away a couple of years ago, but my family all has fond memories of the short time that he owned Blackies-I can remember my Mom making 120 pickled eggs every day during the busy summer months, as well as the huge pots of chili for those delicious chili dogs! Thanks for your great website-it brings back lots of good memories of growing up in Newport Beach. My husband and I now live in the Big Bear Lake area where we own and operate a beautiful log home Bed & Breakfast-The Inn at Fawnskin. www.fawnskininn.com
fawnskininn@earthlink.net
Best regards,
Nancy Walker
Aloha Jim,
Congratulations on an interesting website. As one who grew up on the Balboa Peninsula in the 50's and 60's, the articles brought back many good memories. Keep it up so I can take a virtual tour of the old neighborhood when I get sentimental for home.
John Allen
Big Island, Hawaii
jasc@bigisland.com

Jim, I really enjoy "TalesOfBalboa" and the article about Christian's Hut brought back great memories. I remember in the late 1950's sneaking into the bar, through the bamboo and sitting under the piano and listening to the great sounds. I worked at the Fun Zone in those days, and after work I would head down to Christian's. The piano player would play slow, mellow blues, and I really loved it. In fact, he played the song "God Bless the Child", which I memorized and later sang it at the Prison of Socrates. I also got to know George Perlin. His gas station was right behind our house, and he was a big, hairy man with a booming voice. Keep up the great work, you are really bringing back the best days of Balboa.
Yours,
Tim Morgon
TMorgon@aol.com
I found this site when searching for info on Vi's Pies. Growing up, no holiday was complete without one of Vi's English Chess Pies. Anyone know what happened to Vi's and if that recipe is available? That's a taste from childhood I'd love to enjoy again.
Sari Hotchkiss
infopack@cox.net