Balboa Library Adds A New Saturday Morning Story Time To Its Agenda
Balboa Branch Librarian Phyllis Scheffler has been with the Newport Beach Library since 1990. She originally started at the Balboa Branch, then in 1995 she was transferred to the Mariners Branch in Corona Del Mar. Then last September she was transferred back to our Balboa Branch where she has wasted no time getting children's programs in order. Phyllis words it, "To get young children into the library and get them used to reading at the library."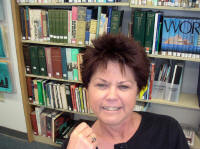 Balboa Branch Librarian,
Phyllis Scheffler
In addition to the Tuesdays 10:30 am Story Time, Phyllis has added a new Saturday 10:30 am Story Time because as she says, "To catch the kids that are in school and their families that can't come in during the week." According to Phyllis, for each Story Time, "We think of a theme and plan our Story Time books and actives around it. Reading books, finger plays and small crafts. A variety of sources to tell the story. A about 45 minutes. We have both mothers and nannies come in. It's a social thing."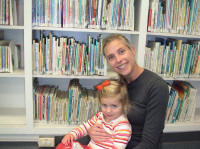 Jill and Isabell Morris. Jill says, "She [Isabell] mostly likes the reading and
she likes the crafts afterwards."
In addition to the new Saturday Story Time Phyllis has added a new drop in kids crafts table with two crafts a month. Phyllis says, "To encourage grade school children to use the library. It's just continuous, they come any time, there's no set time for it."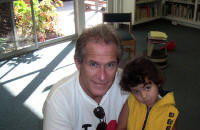 Rick Staffor with grandson Eric. Their
first Story Time. They come to the
library all the time.
Phyllis also notes, "I want people to use the new library database, get to know what we have here. We have a lot of stuff, people say, 'Wow, I didn't know you had this.' Right now through April we have tax forms, that's important."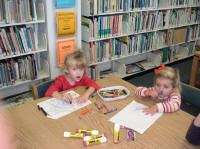 Molly McCance and Isabell Morris
using the crafts table
Good Show
Peter Levshen
On Your U.S. Citizenship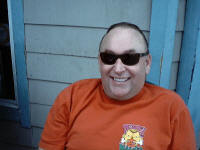 Now get a job and pay taxes
like the rest of us.
Words Of Wisdom
The early bird may get the worm, but it's the second mouse that gets the cheese.
Tales of Balboa is looking for local reporters to cover timely events effecting our local community. If you would like to write stories about, and if possible supply photos of the Balboa scene, contact editor Jim Fournier @ 949-673-0675. This is not a freebee, you will be given full credit and you will be paid for your efforts. If you have never written for publication before, Jim Fournier will give all the support you need to produce your first published work. Call today and expand your horizons. Tales of Balboa is an equal opportunity slave driver. Slaves are sold, not fired.
Just Out
2003 Hooters Calendar
Click Here
Time Capsule
From Dick Vogel's
personal photo album.
Circa 1930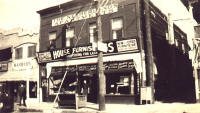 That's my grandfather, John F. Vogel Sr., standing in the doorway of his store that was located at 300 Main St., across the alley from where the Post Office is now. The year was 1930.

Viewer Email
Dude, I love the website!
I'm 32 and I grew up on 8th street on the peninsula . I've been suffering in the central California valley (Modesto) but I'm easing my way back home in about 6 months. Your website really makes it hard to wait! And thanks for the great picture of my grandmother Westy Wright on page 6 of the faces. Keep up the great work.

Harrison Wright
forestpalm@yahoo.com
Jim:
This is the best website I've ever seen. It's nothing short of fantastic!!! I've lived here most of my life so the photo of Christian's Hut really tugged at my heart. The entire website is so well thought out ........ I honestly don't think it could be improved. It's absolutely PERFECT. Kudos!!!!! :-) :-)

Pat George
PatGe@aol.com
Hi Jim- I just wanted to tell you how much I enjoyed your web page. I live in Carthage New York and my son just moved to Balboa in July. He loves it there and I am hoping to get out for a visit. I miss him very much and reading about Balboa on your web page made me feel a little closer. Thank you. I even saw him in the faces of Balboa. How nice of you to share your community.
Thank you.
Sue Powell
SPOWELL@carthage-mid.moric.org
Hello Jim.
I've been living in Balboa for over 10 years now and had a couple of questions. There is a very strange modern house on the ocean front at 13th street across from the school. What's the deal with that house? It really looks out of place. Also, have you ever considered or do you do walking tours of Balboa? Maybe start off with a "drink" at Dillman's get a little history of the place then move on around the peninsula then back to another local watering hole with some history in it to end up the tour. I don't know, just an idea. As a semi-long time resident, I'm always interested in learning the history of the neighborhood. If you can, email me at my home address which is IrieDono@adelphia.net .Thank you for the time and the great website.
Don