Dick Dale was one of the reasons the Rendezvous Ballroom was so popular.
Dick Dale is widely known as the creator of instrumental surf music, and it all started in Balboa. Dick Dale's family moved from Massachusetts to El Segundo in 1954 just after Dick graduated from high school. Dick had started playing the guitar a few years earlier and recorded a few songs on his dad's Deltone label. In early 1960 or 1961, Dick and his cousin rode their motorcycles down to Balboa only to be kicked out of town by the police. They returned the next day by car and found the Rinky Dink Ice Cream Parlor where they began playing guitar for the kids who came in. One night in April of 1961, two other musicians came in and the four played all night with the owner offering them a job entertaining there at a whopping $8 dollars per night. Dick opened up a small record store across from the Rendezvous selling records, repairing phonographs and giving guitar lessons. Adding a drummer and sax player, the band was now packing them in and Dick asked the owner of the Rinky Dink for a raise to which he promptly fired them! They worked out an agreement with Thelma Neufieled the Rendezvous' owner to split the door as she could not afford to pay them and they opened on July 1, 1961 to about 17 barefoot surfers.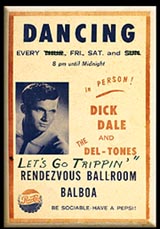 An early Dick Dale
Rendezvous Ballroom Poster
As the audience grew, the city officials began giving the group a bad time about the jungle beat and the supposed bad influence it was having on their kids. Dick
created the first high school assembly where they would start off with "Sunny Side of the Street," Sentimental Journey," and "Can I Get You A Taxi Honey?" and at the end say "and this is what were playing down at the Rendezvous" and started playing their signature music which drove the kids wild. Attendance records for the Rendezvous showed that for the month of July 1961, the average attendance was per dance for twenty dates was 187 people and for August it rose to 317. Some of this taken from Robert Dalley's "Surfin Guitars".
Get more information about Dick Dale at
www.DickDale.com
Pre-register for the National Do Not Call Program If you sign up today with the California attorney general's office, you can stop unwanted telemarketing calls beginning in October under the nationwide program.
www.nocall.doj.state.ca.us/
You can pocket $25.00 for your story and photos.

Put some bucks in your pocket by writing your old Balboa story. For information contact Jim Fournier @ 949-673-0675

TalesOfBalboa
Hot Web Pick
"I am not young enough to
know everything"

The world's two largest search engines still make TalesOfBalboa number 1.

If you go to the Yahoo or Google search engines and this time type in the words; Balboa Village, TalesOfBalboa is still the first listing to appear. Thanks for continuing to make TalesOfBalboa NUMBER ONE.

The HFS Michigan
Circa 1960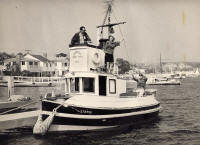 The HFS (Hardly Floats Sometimes) Michigan was the flagship of the notorious Balboa Island Sculling and Punting Society.
I just came across your website and saw the reference to the Rendezvous Ballroom on the Peninsula. My father owned the Rendezvous during the time that all the greats played there. I was quite young and usually not allowed to see performances, but did get to sit on Rosie Clooney's lap, and to shake hands with Nat 'King' Cole. Are you interested in more information about the ballroom from that time? Let me know, and I'll drill my father for (hopefully interesting) details.
Cheers,
Alexandra
alexandra@launchnet.com
Hoy hoy Jim, Thanks for the great web-site! I tell my outta town friends to check it out before they come here. I miss the Balboa Blab. That was the coolest local flyer ever. Now that I have you all "buttered" up, I need a job. I'm a "local" and I'm going to OCC taking a bunch of cooking classes and I'm looking to hook up by semesters end (May 30th for cook apprentice position). Please see my web-site www.cook.2ya.com for more details. Ok to publish this on your site (I need all the help I can get right now eh). Thank you for all your great publishing through the years and I hope you keep at it!, Michael Dean
mykldean@yahoo.com
I grew up in Newport-Balboa. Our first house was on 36th & Ocean Front. That's the one I remember anyway. My parents lived close to the wedge before I was born. My cousin & I have a house at 9th & Bay- She lives there year round & I'm there 3 or 4 times a year. Next trip is tomorrow. I'm stuck in Wisconsin for about another year, then it's back to Balboa and warmer weather. I was disappointed that Dick Dale wasn't mentioned on the Rendezvous link. Those were some good times. I have some pictures of the area you won't believe. One showing the train letting off passengers at the Pavilion in the very early 1900's. I enjoyed the site and will show to some of my inbred buddies here in Wisconsin.
Bob Day
rday@charter.net

Jim
Although just a teenager, my boyfriend and I use to sneek in to the Balboa Rendezous in the early 1960's. It was one of those things kids do, especially during Bal week. How could we avoid the excitement? Dick Dale was the big draw for us, and who didn't love the song, 'Mr. Peppermint Man'? We danced when the floor was full of people, so as not to be recognized. We sat up on the second floor and bought coca cola. Those sofa seats were terrific and the view looking down from above was great. Wow, those days are not to be forgotten. It was quite sad when the place burned down. I have such great memories. Having lived in Balboa, we would make it a regular date to see Tim Morgon sing at the Prison Of Socrates. He was my favorite performer. When I think of it, I realize we weren't even old enough to order a beer, and the coffe house was perfect for our age group. We thought we were pretty cool going there. Tim's songs were so good, and made our teenage romance grow. Wow, those were the days. Looking at the Tales of Balboa website and seeing Tim's site was truly joyful. I'll have to email the page to my old boyfriend. Won't he be surprised? I thought Tim had disappeard from the face of the earth....but, there he was, once again!
Thanks for the memories Jim.
Stephanie
Artchee@msn.com