Cornelius Lynch
An infamous part of
Balboa history.
If you lived in Balboa in the 1970s and 80s, then you know the one name that is truly an icon of the era, Corney. Cornelius Lynch or Corney as everybody called him, was with out a doubt the most visible image Balboa had to offer. Whether you liked it or not, Corney was the most talked about person in town.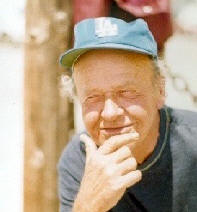 Cornelius Lynch
As far back as anyone can remember, Corney was always a heavy drinker, and he loved his cheap wine. Through the mid 1970s Corney lived with his crippled wife in Ricky's Court. A small court of the then abundant little yellow cabins that were once a Balboa trademark. Ricky's Court was located on Adams Street just north of Balboa Boulevard. Vickie Weimers, a resident of Ricky's Court at that time as well as Croney's next door neighbor, remembers Corney well. She recalls how he would get drunk and lock his wife in the house and go off drinking. After his wife passed away, Vickie says, "We used to lock him in his house whenever he got drunk." She also recalls how Corney, after his wife died, would get drunk and wear her clothes around town. When Corney's invalid wife was still alive, Corney would run while pushing her in her wheel chair just to scare her. Sometimes he would take her up onto Balboa Pier and then running as fast he could, he would push her down the pier into Main Street traffic, stopping just in time, with her screaming all the way. Mike Martin, owner of the Balboa Pharmacy also remembers Corney. Mike would cash Corney's Social Security checks and lend him money between checks. Mike recalls, "He would always come in and buy a cheap little transistor radio, and in a day or two would loose it." Corney's favorite radio was one made to look like a can of beer. The late Mel Fuchs used to lend Corney money because he would always pay it back. A story Mel liked to tell about Corney was about the time Corney asked to borrow $20.00. Mel told Corney all he had was a ten-dollar-bill which Corney took and then said, "I'll let you owe me the other ten." Alice Helman remembers when Corney had been banned from the old Red Carpet, a beer bar famous for its twenty-five-cent draft beer, because he was such a problem. The Red Carpet had Dutch-Doors and Corney would walk up to the door and yell through the open top door at the patrons, "Bunch of drunks." After Corney's wife died and Rickey's Court was torn down in the late 1970s, he became homeless and his drinking became worse. It was so bad that the local liquor store wouldn't sell to him. So Corney would have friends go in and buy his favorite wine for him. When the liquor store stopped carrying the wine altogether, Corney's friends would go off the peninsula to get it for him. One winter night when the temperature got quite low, Corney went into a Laundromat that was located on Palm Street and started a fire in one of the dryers to keep warm. Mike McDermott, a Newport Beach Police Officer since 1980 and now retired, remembers that Corney, at that time, had the record for the most number of arrests for drunk in public. He recalls that it really wasn't the drinking as much as his lewd behavior that finally got Corney kicked out of town by court order. Behavior such as standing on the corner of Balboa Boulevard and Palm Street with his pants down around his ankles and using his middle finger to let the motorist know they were number one. McDermott also remembers that after Corney was banned from Balboa, the kids started a roomer that the police had killed him. Corney died in 1998 at the age of 72 while living in Costa Mesa.

"Never name a pig you're going to eat."
First Fire Boat
Circa 1948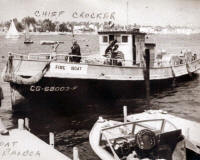 First Fire Chief Frank Crocker aboard city's first fire boat
HI!
I have just discovered this web site & love it! I have already found my long time buddy in the "faces of.."! I also love your photos. I was wondering if you could capture 611 w. Balboa? After 37 years , I have yet to have "the perfect photo". The door has been blue for at least 25 years. It used to be orange! Anyway, I thought you might like t! The house was built in 190-something, 6 I think. My parents have owned it for at least 38 years. Thanks again for this great find! My dad especially loved the ficus logs for sale! Jane Northup-Hill
janiehill2@netscape.net
Hi Jim,
Just looking at the site and someone mentioned a picture of Christian's Hut. I couldn't find the pic. I was there the day it burned down. I never went in the place (too young) but my parents went there once in a while. I remember the day it burned, the whole episode seemed to last only minutes. It went up like a torch. Speaking of Balboa fires, does anyone remember the fuel dock owned by the Bell's? (Can't remember their first names, though I was friends with them.) It was just North of Vallely's. I wasn't there to see that one, I arrived in Balboa the next morning and the fuel dock and pier were a smoldering mass. I remember walking out there and seeing window glass that had melted in the fire. I hadn't imagined that fires got that hot. Then there was the most famous fire of all, Rendezvous. I didn't see that one happen but I was working for Dal at the time and when I showed up at Fun Zone Boat Co the next morning all the boats were covered in ash. I went over to the ocean side to look and it was simply shocking. Rendezvous, gone. As far as I was concerned the Rendezvous had always been there and would always be there. An important part of my young life had simply disappeared. I couldn't have been more stunned than if I had shown up for work and the Pavilion had been gone. Well, maybe that's an overstatement. The Pavilion defines Balboa. It's about all that's left from the early years, at least in somewhat original form. I've heard rumors that a responsible restraunteur is taking over the Tale of the Whale. That is a GOOD thing! This wonderful building deserves a great restaurant. Art Gronsky operated what amounted to a cafe there. I think they had pretty good clam chowder. When Phil bought it he tried to bring in someone who would move the food upscale but it never really jelled, so to speak.
I'll stop rambling now, Alan Sandoval
alan@intertrader.net
Hi Jim,
I just wanted to let you know, that you created my favorite web site. We always spend the month of September in the area - and the web cams help me not to loose touch and make it through the winter.
Thanks again Renate
renate.neuhauser@accenture.com
HI, JIM
WHAT A GREAT WEB SITE!! A COUPLE OF E-MAILS TO YOU SPOKE ABOUT A PICTURE OF CHRISTIANS HUT. OH, WHAT MEMORIES. COULD YOU POST IT AGAIN? TEX WAS THE DOWNSTAIRS BARTENDER AND JIMMY WAS UP STAIRS. WE HAD A FAVORITE DRINK, A RUM COLLINS WITH A FLOATER OF 151 RUM. THE THINGS YOU DID WHEN YOU HAD A FEW. THE GOOD THING ABOUT IT WAS THAT AFTER YOU HAD A FEW WHEN YOU WOKE UP THE NEXT DAY YOU COULDN'T REMEMBER WHAT HAPPENED SO EVERY THING WAS OK. ANOTHER PROBLEM WAS TO STAY TOO LONG AT CHRISTIANS BECAUSE IN THE WINTER THE FERRY BOAT STOPPED AT 10:OO OR 11:00 SO THE ONLY WAY TO GET BACK TO THE ISLAND WAS TO" BORROW" A PEDDLELO. GREAT MEMORIES. THANKS JIM CROUL
Jfcroul@aol.com