The 4th of July was a time when the whole street became one big party.
The first time the neighbors of East Bay Avenue decided to throw a 4th of July parade and bash was in 1983. About 30 friends and neighbors decorated the street in the familiar red white & blue stars and stripes, even bikes were decorated for the grand occasion.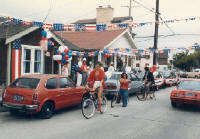 The party started off with the "Grand Parade" where everyone would march up and down the street bringing the sounds of fun to all who passed by. Of course there was a fair amount of liquid exuberance to spike things up.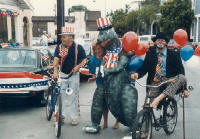 Later in the afternoon the crowd gathered for a giant BBQ. Even the Police were in the holiday sprit as they would pass by without saying a word to dampen with the fest ivies.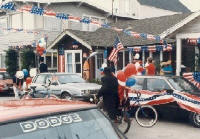 The 1983 4th of July party was so successful, another 4th party was thrown for last and final time in 1987. This time it was even bigger. Today the great times of old Balboa are only a fond memory. Many of the people involved in this era are either dead or moved away. Balboa will never be the same. Who knows, maybe for the best.
Ian Voss displays an Iraqi flag which he removed from Saddam Hussein's Baghdad Palace while serving with the U.S. Marines as a tank driver during the Iraqi war. 20 year old Ian works at the Fun Zone Boat Company where he has been employed since he was 13 years old.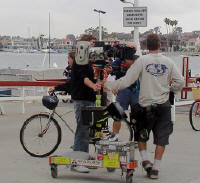 Student filmmakers from Chapman University were on location at the Balboa Island Ferry Landing last month shooting the film short, "The List."
It's a Jungle Out There Swing Into Your Library!
The Balboa Branch Library's annual Summer Reading Program is in full "SWING" and continues through August 16. There is reading, fun, games, prizes and programs for everyone: preschool – grade 6; grades 7 – 12 (teen program); and adults can show their love of reading by participating in "Branch Out – Read!" Special programs for grades 1- 6 are on Thursdays at 10:30 and the younger ones are welcome to attend story times on Tuesdays and Saturdays at 10:30.
Stop in to register during any open hours and START TO READ! In addition to achieving prizes for moving along the reading game board, readers have a chance at a weekly drawing for a Rainforest t-shirt. Adults can try their skills at trivia questions for a chance at winning a Newport Beach Library Foundation book bag. If there are any questions, please feel free to stop by or call the library: 100 E. Balboa Blvd., (949) 644-3076. We look forward to getting to know the community during this summer of fun. Phyllis Scheffler, Branch Manager

Birdie birdie in the sky, dropped some whitewash in my eye. I'm a big boy I don't cry, I'm just glad cows don't fly.
2003 Old Glory
Boat Parade
Balboa Photo
Of The Month
Watch the redevelopment of Main Street from trees to trees in 60 seconds.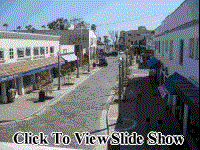 Our city needs your photos
Our city is in the process of designing a memorial plaque in commemoration of the old Rendezvous Ballroom. To help with this project, as many old Rendezvous photo as possible are needed that reflect the interior and exterior of this old building to help with the plaque's design.
Please call Jim Fournier @ 949-673-0675
Concerts On The Peninsula
2003 season starts July 17.
This year's six week concert series will start on Thursday July 17 ,from 6PM to 8pm, at the Peninsula Park Gazebo at Balboa Pier. The admission is free and everybody is welcome.
July 17
July 24

July 31
August 7
August 14
August 21

Slimstones
Michael John & The Bottom Line
Chris Bell 100% Blues
Joe Schmoe
Balboa's own Rooster
Metropolitans
It was in the mid 1980s when the gang at the Class of 47 decided to have some fun with then Balboa resident Ron Daluz. Ron was noted for always playing jokes on everyone, so it was decided to pull a "get even" thing on him.
For Ron's upcoming birthday, he was told that he was being fixed up with a blind date. Come the big day, Ron showed up at the Class of 47 on time at five p.m.. He was blindfolded in anticipation of his date's arrival. Meanwhile a truck and trailer containing two sheep quietly pulled up in the bar's parking lot. One of the sheep was dressed in a bra and girdle and taken in the door. Ron while still blindfolded was told, "Here's your blind date." At this point the sheep started baying, and Ron pulled off the blindfold to behold his blind date. Later that evening Ron was fixed up with a real blind date. Ron claims the trailer that was used to carry the sheep was a ewe-haul.
Years ago I remember seeing Corney down on Main street in front of the donut
store and he would carefully and quietly hide behind one of the large trees-- that they recently ripped out--and would jump out at the pigeons and scream--"damn pigeons- get out of the street--your going to get killed- stupid pigeons". He would do this for hours-- and all the tourists- a new batch every fifteen minutes- would watch this craziness and laugh nervously
in amusement while not knowing exactly what else this fellow might do next. I never saw anybody get more enjoyment out of a few pigeons than he did--but you have to give him credit-- I don't think there was ever a pigeon that was hit by a car all the time he was in charge of their safety on Main Street.
Jeff Kilpatrick

Hi Jim
Firstly, all good wishes to Bibi Anna Mesmer and everyone who has family serving in the Gulf. Let's get the job done and bring the service people, yours and ours, back home safely.
I've been dancing lindy hop for five years and have recently begun to learn the balboa. I'd like to make up a couple of bal-related T-shirts to promote the dance here in the UK. Can you tell me the copyright situation with the pictures of the Rendezvous ballroom and of the plaque on the site, and can I please use them on a T-shirt?
Best wishes
Bill Munro