In 1974 Curt Allen started the "Bathtub Boat Races." An annual Balboa event.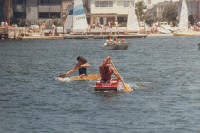 The boats loosely resembled bathtubs.
Balboa's Bathtub Boat Races were An annual event held in the bay at the Balboa Pavilion. Participants would build boats more or less resembling a bathtub, and race across the bay to Balboa Island and return. At first there were only a few entrants, but over the years the number of boats in the race increased to over 25.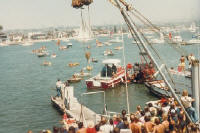 At its peak over 25 boats were entered.
By 1980 the race also included the, "Miss Bathtub Race Beauty Pageant." By the mid 1980s the event was discontinued.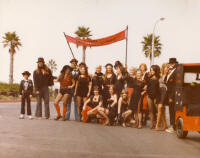 The Balboa Brothel racing team.
In the outlandish style of Balboa, Harry Miller and Carol Depa formed the "Balboa Brothel," a Bathtub Boat racing team. Harry, whose title was "Director of ladies Affairs," started the brothel in the late 1970s and kept it running through the last race in 1983. The most exotic boat built by the brothel was a hodgepodge of eight two-man life rafts tied together with PVC tubing, will power, and red and black streamers. The craft held 20 people and broke up after getting caught in the outgoing tide, and had to be rescued by the Harbor Patrol.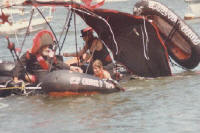 The boat broke up in the outgoing tide. Photos by Carol Depa
New Home Delivery Service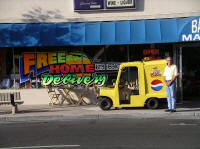 "Balboa Bob" St. John, President of Balboa Village Market, shows off the flagship vehicle of the stores home delivery fleet.
Balboa's Foremost Art Festival Will Be Inaugurated The Weekend of October 4th & 5th

The good thing about growing old is you only have to do it once.
I was a huge fan of the Rendezvous in the 60's. I loved the Rendezvous---Dick Dale, The Righteous Brothers, and….all the surfer bands. It was such fun & so sad when it burned down. But, oh the memories of all the people I met, all the great music & dancing… We would go Friday & Saturday nights (100 miles round trip!)….and every night during Easter Week!! I love to see all the pictures you collect. Will they be on a website?
Donna Tunstall
Hi Jim,
I was there in your beautiful town a couple of days ago. As I was walking around and shopping I saw that some workman were putting in some kind of parking structures in the Balboa garage. Do you know anything about them? Looked pretty neat and I know alot of people who need more parking. If you do know anything I'd love to find out more!
Regards,
Amy
Hi, I was wondering if you had any photos of the boat that went up on the beach around 10th street, months ago. October-ish?? Do you know what I am referring to ?
Jeff Jacobs
What are they doing with the old lamp posts that they removed from around town? I see them in a pile down by the parking lot down by the beach. Are they for sale? Do you know anyone who would know?
Laura Benito
Dear Sir/Madam-
Thanks for telling me about how to get on your webcam achieves page. It had great pictures of my friends and I at Prom on May 10th, 2003.
Thanks
..Hi...there is an old house on the very end Edgewater + Lindo Ave...directly north of bay isle...could you give me any history or links on this beautiful 1901 house? It has turquise doors...
thanks
kathy dueker
Jim
Great website, in addition to your Faces of Balboa, you should add a section for "Memories of Balboa" Please to your "Faces of Balboa"
Steve Moses
Balboa, 1971

Hi Jim,
I am visiting for the summer, my mother in-law has a place on A street. What a cool website! Do you know whether there will be any 4th of July fireworks in in the Bay? I have been every summer for several years, and last year there were none. I am hopeful that they will resume this year. Any info is appreciated.
Thanks,
Tomi Farr

Hi Jim, I like a lot to visit your internet page. Sorry, my english isnt perfect. My born language is spanish. I have a sister who live there, in Balboa Island, its a great and special place. I went last febrary there, also at.Cafe Restaurant near the Ferri. Where the camera is. Visiting this page, I could know whats the weather is there congr atulations, for you, from Las Tablas, Rep of Panama, Central America. Bye, bye.
Marianela De Leon.

Sundays Sept, 7, 14, 21, 28 - 2-6pm
The VooDudes Band
Studio Cafe
September 18th, 7:00 p.m
2003 Annual Meeting
Central NB Community Association
American Legion Hall on 15th Street

September 20, 9am-Noon
California Costal Cleanup Day

October 4-5
La Strada Dell' Arte
Italian street painting festival.
December 17 - 21, 6:30 - 9 pm
Newport Harbor
Christmas Boat Parade
Balboa Photo
Of The Month
The Balboa Motel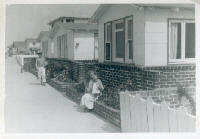 The Balboa Motel occupied an area of the East 300 block between Balboa Boulevard and Oceanfront. As with many Balboa landmarks it was demolished in the 1970s

Hi Jim,
Thank you so much for printing the story of my Dad's boat, the Miss Balboa. It was such an exciting ride and what a beauty the Miss was. I remember launch day at Dick's Dock. The Miss was so long that the trailer she was on couldn't negotiate the arches bridge so she had to go the wrong way to get to the Highway. My sister and I got new dresses and Mom a new hat to go with her dress. My favorite picture from launch day is the one of Lido Isle in the back ground, it only has a few homes on it. It was a good time in my life, my first job was at the Frosty stand on the bay front where the diving platform was. Your website is wonderful, I enjoy it so much.
Lora Clawson Leach
Hi Jim,
Have been reading about you and Tales in the Daily Pilot. Finally I checked out your website (I am getting more interested in computer stuff. What a joy and resource...you are on my "Favorites" list. Thanks for doing all the work for us to read. I also checked out freenewport...I wish these guys had been around to help on the Fourth of July when I was on City Council. Some of their stuff is on the cruel side, but the Fourth of July letter to residents was a very positive contribution. I hope they will work to be a part of the solutions in the future. When I first moved to West Newport in 1979 I adopted a rule for myself....He earns the right to criticize who has the heart to help. I still remind myself of that every day.
Thanks again for all you do.
Jan Debay
Thank you Jim! Since you published my email I've already got my 90 day review at the Marriott, Newport Beach, Fashion Island, and it's glowing. I'm cooking at the Restaurant for the Hotel and I'm loving every minute of it (as Maxwell Smart would say). EXCELLENT place to work! The operation is so smooth it's like a dream. All my bosses are so cool and so savvy and my coworkers are great! Thank you for helping make my dream a reality!
michael dean ballard

Thanks for bringing back a lot of great memories (including Korny).
Read Shoemker
Balboa/Newport Beach
1961 - present.
In researching my family history I came across a copy of a newspaper article that appears to come from a 1930 publication from Balboa. It begins: "GOLDEN WEDDING IS CELEBRATED BY BALBOA COUPLE Count and Countess Van Roselowe de Seielstad, better known as Mr. and Mrs G.J. Seielstad, business residents of Balboa for more that 20 years." I was wondering if you knew of anyplace that might keep old newspapers or other historical information. This couple was married, according to the article, in Wisconsin in 1880 and would be celebrating the 50th anniversary, hence the 1930 date. Thank you for any help you can give, and if you are unable to help, my apologies for bothering you.
Dean Christianson
Tulsa, Oklahoma
Hi there,
I really enjoy the web site and have explored most of it. But I thought the first time I ran across old photos or posters from the 40's. I love the poster with Stan Kenton on his site. Is that available? I have a friend who is turning 70 and a huge Kenton fan and I would like to take one to him on Sunday.
Thanks, Pat
Dear Jim;
To you know what happened to the plaque placed on Balboa pier prior to the
latest renovation commemorating Mayor Williamson? It was supposed to be replaced/returned, but it has yet to materialize.
Sincerely, David Lynn-Hill

Hi,
I have a weekend/vacation home in Newport on the Finley Canal. I use the weather page on your site to see if I want to drive down there from my home in Santa Monica and kayak. It's a wonderful job of programming. I have no idea how you did it. I wish I could set up something like that on my home computer to show me local weather up here in L.A. If you could share the secret I'd be grateful..
Best wishes,
Ron Burns

Hello Jim,
Thanks so much for your wonderful site, we live in Portland,OR. and visit Balboa a couple times a year. Hope you can help..can you tell me the name of the shop, just a block or so from the ferry landing, that makes the round address (or whatever) plates. We would like to order some.
Best Regards,
Gary Martin

Hi:
would you let me know the date and time the race begins. In 42 years of my family owning a house on the peninsula I have never seen the sailboats go out the channel.
thanks so much.
Karen Newton
Thank you so much for the link about the Rendezvous Ballroom. My husband had the opportunity to work with Maxie Dorf (listed on the site) for 2 years before he passed in December, 2000 – nice to know his legacy will live on.
Sincerely,
Alison Plys

Dear Jim,
I used to spend my summers on Balboa Island. Each of my grandmothers had homes there. I am trying to find a South Bay Front home to rent for a week or so preferably near Apolena. I have no specific time in mind. Do you know of any that are available?
Daphne
Thanks for leaving your cards at the Balboa Post Office. What a great site! I will pass the word. Please continue with the "beloved" of Balboa. The article on Corney was great. I remember all of the incidents you mentioned...and more. What about something on the great George Perlin. and Francsois the maitre de at Christians hut. Vaux White. Sammy and Flo Miller. Jim Karam. Bill Dillman. Hidi.
We all have anecdotes. And didn't we have fun! I've lived in Balboa since 1950. Rolly Pulaski and I were instrumental in receiving entitlements to build the Rendezvous Condominium after the fire. I'm an original owner since 1973. (kept the best one for myself)
It would be fun to talk with you.
Pepper Jones