New book covers the combined histories of Our Lady of Mount Carmel Catholic Church and the Balboa Peninsula.
This book of 195 pages represents a massive work of the parishioners and priest of this church. Going back to the church's founding in 1923, stacks of manuscripts, taped interviews, old bulletins, and old photos were contributed by parishioners, their families, old timers and friends of the church. These materials had to be painstakingly hand sorted and researched to produce the final layouts for this book.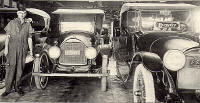 Theodore Robins, Sr in his Balboa Ford repair shop in 1921 was one of the Parish's founding members
This book is a treasure trove of never before published documents, photos and Balboa history.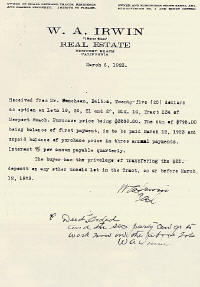 This original bill of sale shows the 4 lots for the church to have cost $3,280.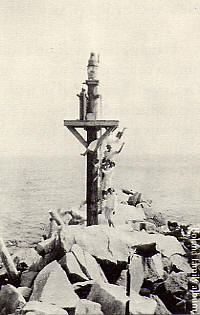 The signal lamp at the end of the old
jetty in the late 1920s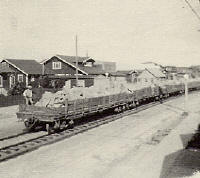 Flatbed locomotive carried rocks to dump at the west jetty extension on hand-laid tracks down Central Avenue. (Circa 1928)
So much more then just a history of Our Lady of Mount Carmel Church, this book is a necessity for everyone who calls Balboa home. You can get your copy by calling the church at 949-673-3375
Balboa Village Market's
2nd annual guess the weight and win contest.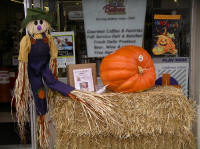 Stop by the Balboa Village Market and take a guess at the weight of the Big Mac pumpkin. If your right you can take it home for Halloween. Winner will be announced October 26.
No matter how hard you try, you can't baptize cats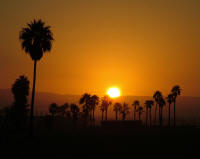 Balboa Beach Sunrise 15th Street


Wednesdays Thru December 10th
Balboa Fun Zone Wild Wednesdays
Big Discounts At Participating Stores
Wednesday, October 22, 6:30 pm
Bibi Anna's Wynns Estate Wines
Wine Tasting
$15/Person Includes Appetizers
Reservations Recommended
949-675-8146

October 31, 8 pm - 2 am
Studio Cafe
Halloween Party
December 17 - 21, 6:30 pm - 9 pm
Newport Harbor
Christmas Boat Parade
January 1, 1 pm - 5 pm
Menagerie Entertainment
Balboa Village 5th Annual
New Year's Day Talent Show
At the Gazebo In Peninsula Park
Newport Landing Fire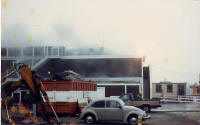 It was an early Spring morning in 1986 when the sounds of fire trucks woke everyone in the neighborhood. Newport Landing Restaurant, which had just opened only a few weeks earlier, was on fire. The Fire Department did its job and put the fire out in short order but not before the restaurant's state-of-the-art kitchen was destroyed. The cause of the fire was a small counter-top electric appliance. Ironically, the appliance was on trial loan to the restaurant and due to be picked up by the equipment supplier the very day of the fire. It was several months until Newport Landing could reopen.
New Signs Clean up
City's Image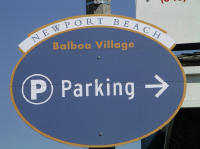 By Scott St John
For the last year our city has been developing a city wide Wayfinding and Directional Signage Program through the Economic Development Committee and an ad hoc subcommittee of district stakeholders. The purpose of this program is to clean-up our city's existing signage by redesign and/or removal where possible, in order for a more thorough and image building program. This new program will assist both residents and visitors to navigate from the various destinations in our city, as well as build on the identity of the various "Villages" or districts within our city. Each directional sign will follow a universal design for our city as well as the "Village." (Balboa Village for example.) For more information contact: George A Berger at City Hall at 949-644-3207

Just an idea for an article. In the sixties and maybe into the early seventies, I'm not sure, there was an old Italian shoe maker in Balboa, named Dominique. I am not sure of the spelling. He made hand made shoes and sandals from leather. I had some wonderful pictures of him from when I was pretty young. Many members of my family had shoes he had made, and they lasted forever. He was a kind and quiet gentleman, and he took in apprentice's over the years to help him make shoes and to drive him around, as he didn't drive, or read English ( I think ). I don't have the pictures anymore, but I wonder if there is anyone left who remembers him. He was quite a character. I know Bobbi Mifflilns son, Lee, was an apprentice for him for awhile, I bet she would remember something about him anyway. I think he actually was born in Italy but I could be wrong. Thanks for anything you might be able to dig up on him. Barbara in Wa.