Hi Jim:
Just to let you know my brother, Mike, and I are meeting with Ted Nikas in November at Foto Kem in Burbank to finish the transfer of "Dirty Feet," the Tim Morgon film, from 16mm to VHS and DVD and that soon after that date the film will be available for sale; I will provide more information then. It will likely be sold at CDBaby, where Tim's CDs are being sold, but he hasn't anything to do with the sale of "Dirty Feet." He is however very happy that the film will soon be available and supportive of our efforts to save the film and glad that Ted Nikas has been so cooperative in restoring the film. This has, as you know, been a long-time effort of ours to encourage Mr. Nikas to put his 90 minute B&W movie, filmed almost entirely on location in Balboa, in 1964-65, at the Prison of Socrates and other Balboa locations. We owe everything to Ted Nikas who put up all of the money and spent a considerable amount of time ensuring that this film would not be lost. He's really an amazing person. It will be great for all who loved The Prison of Socrates to get a chance again to re-experience that great old coffee house and feel what it felt like to attend a Tim Morgon live show at The Prison. It isn't a film that qualifies exactly what it felt like to hear and see Tim Morgon, as it is a mixture of fiction as well as fact, but it is something. Tim is seen not only performing at the coffee house in Balboa, but surfing, camping (at Angel's Camp in the Sierras), having fun at the Balboa Fun Zone, hanging around Balboa, in general, and just talking with old friends, like "Mike" who used to own the gas station on Newport Blvd (forget his name) and a hodgepodge of other friendly and now (strangely) familiar folks. When I e-mailed Steve Martin at his site on-line, he said one word to qualify this news: "Wow!" and former waittress and graphic artist, who did the graphics for the movie, Elonne Dantzer, is ecstatic that the film will finally be available, as is it's "co-star," Vicki Arthur. Spence Hathaway is equally happy to hear the film is going to be released. I will send you a copy of it on DVD soon. I will also secure two other copies, as promised, to the Special Collections at the Newport Public Library; and maybe you can interest someone locally in showing it on a local cable station? Please let me know if you have any ideas in how we can bring to the residents in Newport-Balboa that this long lost film will soon be released. I suspect it will be ready for sale in early December.
Nick Campbell
Atascadero, CA




Dir Sir,

Great site, I love it. It is always fun to explore the site, since I am fairly new to Newport. I wish, however, I lived on the peninsula. Next year hopefully I can find a rental house there with my girlfriend.
Anyway, I was wondering if anyone in Balboa knew how to play the French game of Petanque. It is a great outdoors game, and I think there should be a local Balboa Petanque club created.
Rudie
xcarto@yahoo.com
Hi Jim,
Did the street painting happen again this year and I missed it?
Stacy O
Dear Jim:
Thanks for sending on this message from Sheila. I will certainly get in touch with her. I also hear that my lifelong friend Paula Castle Hocken dropped by to see you. See how influential your website is? Carry on!!!
Sincerely,
Tita Vincent Yost
Holy tomoly! How many years has your web cam been on me?
Hope everyone has enjoyed my spills and thrills!
P.S. We moved the jacuzzi...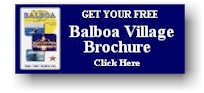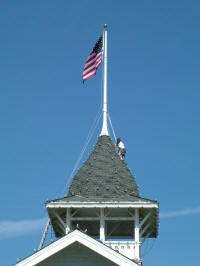 Paul Kim performs the never-ending
task of replacing the burnt out lights
on the Balboa Pavilion
THE PRISON OF SOCRATES
Sometime in the mid 50s, a coffee house opened in Balboa. As was the custom at the time, coffee houses had a sub-culture and usually an off-beat name. It was called the Prison of Socrates, and was located where B.J.'s pizza is presently. Most parents were not too excited about the presence of a coffee house, but it soon became a place for singers, musicians, comedians and poets and also a hang out for teens on vacation in Balboa. Serving coffee, soft drinks, juices and espresso, there were no alcoholic beverages served. but the fact remained that most parents did not allow their children to go near that "den of iniquity." At that time, there were plenty of bars and saloons in Balboa, one right next door to the "Prison" called the Beach Roamer, which was known for its large fire pit in the center of the room. Beyond that was a second-hand book store where the Studio Cafe is presently. Across the street from the "Prison" was, and still is the Balboa Inn, along with the Chinese Stage restaurant and Karam's Restaurant where Dillman's is now. For the younger generation, there was folk music at the "Prison" and rock and roll at the Rendezvous Ballroom. The Prison of Socrates was very obvious. The Greek writings and scenes on the brick wall along the alley and in the front were very distinctive. The scene of Socrates' death was a mural painted on the inside of the club. this scene was used in some of the albums recorded live at the 'Prison." The most popular group at the Prison of Socrates in the late 50's was the "Steeltown Two". Made up of C. Carson parks and Bernie Armstrong Jr. Parks wrote "Something Stupid" that was a big hit for Frank and Nancy Sinatra. By the early 60's Tim Morgon was the headliner and he recorded live at the "Prison" and also filmed a movie about the culture at the time. Other popular names to appear at the "Prison" were Steve Martin, Pat Paulsen, Jose Feliciano, Randy Boone, Denny Brooks, The Mad Mountain Ramblers, Hoyt Axton, Joe and Eddie and Steve Gillette to name a few. By the late 60's folk music had given way to rock and roll and the Beatles and the Stones had sealed the coffin. The Prison of Socrates closed and sat empty for years until taken over by B.J.'s Pizza. The painting on the walls stood as a mute reminder of a chapter in the life of Balboa.

"The people who cast the votes don't decide an election, the people who count the votes do."
Joseph Stalin