Balboa's 96th Annual
Christmas Boat Parade
is an event that's a must
for everyone.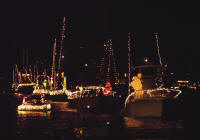 For nearly a century the week before Christmas is an event that draws thousands of people from all over the globe, and this Christmas will be no different. One of the best places to view the Boat Parade is at the Balboa Island Ferry Landing at Fun Zone on the Balboa Peninsula. Be sure to dress warm because this is the coldest time of the year.
This year the Boat Parade will run from December 15th thru the 19th.
Even better then watching the parade, you can be a part of it. You can rent a boat or ride in the Boat Parade on one of several boats that are a part of the Boat Parade. Here are some of them:
Catalina Passenger Service
Davey's Locker
Fun Zone Boat Co.
Marina Water Sports
Newport Landing Sport Fishing
Newport Whale Watching
Shellback Yacht Cruises
WANT TO HAVE A DINNER VIEW?
Harborside Restaurant
Newport Landing Restaurant



Jim & Readers:
Just a note since The Rendezvous has been a topic lately. I lived in Newport ( 32nd & Lake-room above single garage-still there) from late 1959 until 1969. Besides working for Hank's Ocean Front Cafe (was there that fateful day President John F. Kennedy was assassinated) on the front at Newport Pier then next to Blackie's, I played in various bands around O.C. The one which concerns The Rendezvous was named "The Centurions". In 1962 we played several Friday nights then alternated with "Dick Dale & the Deltones", "The Rhythm Rockers", and others for about a year or so, playing also Santa Monica Civic Auditorium, Riverside Armory, Harmony Park and an host of "surfer stomp" halls around So. Cal. In 1966 a surf band named "The Cindermen" played the last show in the old Rendezvous Ballroom, ironically, as it again burned down, gone but not forgotten!! Fast-forward to 1995-one of our songs "Bullwinkle Pt.II" was chosen for the movie "Pulp Fiction" soundtrack and wow the surfin' sound was back, and no Rendezvous! There's more but will end here. Thanks for a great site, Jim
Charly Son



Hi, Jim, is there a message board or some other link where I can read others' views and memories of Balboa? I can't seem to locate it...
Jamie Colangelo

Hi'ya! Some friends and I are looking for a shore line restaurant to enjoy the Christmas Boast Parade. Any suggestions? Prefer, of course, a seafood menu, cost is not a factor if the view is worth it!
Danielle
hi,
we have a house on apolena and was wondering where the street got it's name?? i havel looked up a lot of info and only can surmise it came from somebody's last name??
brenda hayes
Hi Blabman - Just wanted to drop you a line and wish you a good week. I'm really enjoying your photo of the month, and of course I've been checking out the webcam. Love the weather right now! See you soon.
Roseanna Jara (Wife of Ron)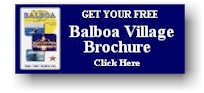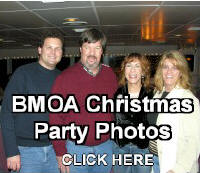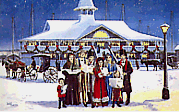 This series of paintings was made for the Balboa Pavilion by Susan Newcomb.

2nd Wednesday of the Month
Book Club Luncheon 1PM
Bibi Anna's
675-8146
THE CHRISTMAS BOAT PARADE
It was 1913 when the enterprising Walter Gustin promoted an event featuring lighted boats which was called the Illuminated Water Parade, and prizes were awarded. Similar events were staged again in 1919 and 1920, resulting in the establishment of the "Balboa Tournament of Lights" in 1921. While support for this event came from both the Island and the Peninsula. Soon there were fleets of rowboats, canoes, and small sailboats. Even motorboats, power cruisers and large auxiliaries became a common sight. By 1929, scores of decorated and illuminated power craft were towing their quota of small craft. As each tournament followed, the decorations became more varied and imaginative. In 1929, Governor C.C. Young stated, "It's one of the most beautiful things I have ever seen! I think its most charming feature is its freedom from commercialism." Today's Christmas Boat Parade has over a hundred boats and draws thousands of people each night of its run during the last week before Christmas

The main reason Santa is always so jolly is because he knows where all the naughty girls live.