Peninsula Point
4th of July Parade Photos
Click Here
In October of 1909, three years after the incorporation of the City of Newport Beach, the Ebell Club was founded in the home of Mrs. John C. King. The Ebell Club was a philanthropic woman's organization volunteering local welfare assistance to the needy. By 1910 this club was admitted into California and district federations. In 1913 the Ebell Club helped in founding the Orange County Federation. A building fund was established, and in 1914 a lot at 515 E. Balboa Boulevard was purchased. Later, this was added to by additional land purchases. At first, a small structure was built, and later enlarged. Then on July 27, 1956, Mrs. Conklin turned the first shovel of dirt at the ground breaking of the new $36,000 facility. At one point, The Ebell Club boasted over 400 members plus a Junior Club. The Ebell Club has played an important role in the social and civic life of Newport Beach since its organization. It has been active in advancing the cultural and educational status of its members. Its work along library lines dates back to 1909. That year Ebell applied for a branch of the free State Library. Books arrived from the State in December 1910. Members volunteered to supervise the loaning of books . Early in 1911, a movement was instituted to acquire books by donation for a library that would belong to the Club. The new collection was officially designated as the Ebell Library and shortly afterward the State Branch was relinquished. In 1920, the Women's Civic League asked that a municipal library be created, either through cooperation with the Ebell Club, or as a separate unit. On April 5, 1920 Ebell offered its 1,100 books as the nucleus of a City Library. The Library grew rapidly and the Ebell Clubhouse became inadequate to accommodate both books and borrowers and in 1925, the City established a library of its own, which was the beginning of the Balboa Branch Library. The bond between the Ebell Club of Newport Beach and the Balboa Branch of the Newport Beach Public Library as a part of Newport history, was reinforced in June, 2005, with a generous donation of $10,000 to the Newport Beach Public Library Foundation.

Hi Jim,
Maybe I still have a few stories in me, or maybe I've told you all this before and have simply forgotten. I see you have rented that little building attached to the side of what was for endless years Playland Arcade. It's sure looking pretty nice! Best in years. That tiny space has been lots of things to lots of people. Dal Grettenberg used as a storage space for spare parts for his cruise boats when he moved the cruise down from near the ferry landing. Later it was used as a trinket stand, selling various tourist stuff. Don't remember how that worked out. The first I actually remember of it was when it was rented by the Fredette family. This was when my parents first bought Playland. Middle 50's. First, the Fredette family. I remember the sons, 'cause they were my friends. Ed was the oldest and was into hot rods. He later went on to work at a transmission place in Costa Mesa. Lost track of him. Tom was next, and he was the intellectual of the group. Went on to university, not sure which one, last I heard he was a teacher or prof in the Bay Area. The last son was Art. We were closest because he was nearest my age. There were two girls, both younger than the boys. I believe, could be wrong, that their names were Maria and Jeanette. I don't remember the dad's name at all. I do remember the mothers name for one reason. She told a story about when she was about to get married. Her maiden name was Jeanette Dedette. She felt pretty weird about being know as Jeanette Dedette Fredette. Just a lovely family. Very religious, when Al Nielson went on vacation to Europe he made a point of going to the Vatican and bringing back for them a medal that had been blessed by the Pope. Back to "your place." It was then a hamburger and taco stand. Just the basics. Burgers, grilled on a rather large grill right in front of the window. A deep fryer for french fries. And tacos. I have NO idea how a nice family from Mass. knew about tacos! All the family worked there aside from the girls, who were too young. And I really admired the effort they put into it. The grill was scrubbed with some strange brick every night when they closed, the fryer was dumped and cleaned, the floor scrubbed, and anything else that needed to be cleaned, was cleaned. It sure seemed like a hell of a lot of work to me!I hung around all the time of course, my best friend worked there. I watched but never participated in the preperation of the food. The most time consuming thing was preparing the taco meat. Yeah, it was ground beef, nothing you would find in an authentic taco but sure appropriate for Balboa. They cooked it, added spices and sauces, and it actually turned out pretty good. I remember one time when I was hanging around and only one of the family members was there running the store. He needed to leave for some reason for a minute or two, asked me to keep an eye on things, and I prayed no customer would approach. Sure enough, someone came up to the order window and asked for 'something', I have no idea what now. I was terrified. I didn't want to let my friends down. I stalled, it all worked out, if I remember correctly. The Fredette family made a decent, if not lucrative living from that very tiny building you now occupy. The father met an untimely death, not sure exactly why. I suspect cancer or something like that. The family moved back to Mass. I mostly lost track of them though Art did come out here once for one of my birthdays long ago. I guess the point is, that building you have isn't just something that has been randomly attached to a bigger building by someone on a whim. As with most things in Balboa, this tiny place has history. I bet you can ask anyone knowledgeable about Balboa of the Fredettes and you will get a blank stare. I attest they were important in Balboa history, whether visitors, or locals, knew it or not. Al Nielson MAY remember them. No one else aside from me will. Not because they were unimpressive, simpy because they went about their business without making waves.
Alan Sandoval

Visit TalesOfBalboa GALLERY


On The Fun Zone Boardwalk
CLICK HERE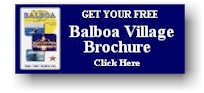 Birthday Girl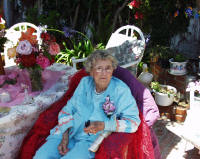 On June 16 of this year Alice Smith celebrated her 100th birthday.
A BIG Happy Birthday Alice
Bollywood Meets Balboa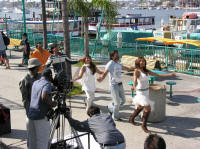 Last month, Bollywood, the Indian film industry filmed a dance sequence for the film "Mad" in several Balboa locations.

I'm working on a project where I need to describe the typical wind and tide conditions in Newport Beach for several months of the year. Do you preserve the data from your weather station?
John
jakp@mindspring.com
i am looking for someone named Rudy Ramos he supposedly worked as a cook at the Shark Island Yacht Club back in the 1986 or so. If you know of him please let us know as he has a 18 year old daughter looking for him. Any help would be appreciated
Sheri
slmuffin@alaska.net
I was just told about this web site by my close friend Chris Wall, who now resides in Austin, Texas. Chris is a successful singer and song writer and will be making a west coast tour stop at the Swallows Inn, in San Juan Cap, the night after NHHS/CDM's 40year high school reunion, class of 1965. Bubba, regarding the location of the old fire station, I think it has been at its current location, near the old library, for as long as I can remember....mid-50's. I'll check with John Vallely and see if he recall. I can remember setting a few fires with your brother Dave...but that is another story. By the way, congratulations...I heard you got married . All the best to you and your new bride.
Greg George
gsgport123@aol.com
Thanks, Jim--Keep up your labor of love. There are far more Internet users enjoying your website silently than those responding with e-mail; but they are thoroughly enjoying "Tales of Balboa". I could name four of those Internet fans right here in Boynton Beach, FL. Bringing up pleasant memories of that beautiful California haven gives you a ministry to thousands of "Tales of Balboa" fans. Keep ringing that bell, Jim.
--Your friend in South Florida,
Jim Isadore

Wanted to see if your readers could help Cabo Cantina bartender find a place to dock his 25' sailboat
Ed McLean
magman992001@yahoo.com
(949) 929-3266
Hello,
I just wanted to let you know that I got my order, they are awesome. Thank you!
Amber
Could you please tell me when Row 33 Faces of Balboa pictures were taken? I would greatly appreciate it. Thank You.
lisakelden@hotmail.com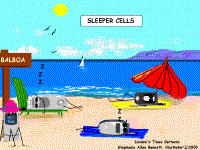 An honest god's the noblest work of man.
.