Another Cingular Horror Story
Balboa continues to prove to be the preferred place for filming movies and commercials.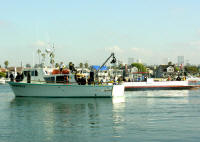 Bill Scott's 'Reveille' was used as a camera boat for the filming.
Last month a film crew of 75 people spent 4 days here filming a Honda commercial which will be shown only in Japan.




I had the privilege of living on Balboa Island 2 times. I lived there the first time from 1980-1983. My youngest son was born in 1982 and my older son went to kindergarten and 1st grade at Newport elementary. Too bad he doesn't remember his school. It's not every kid that has a playground that borders (by only chain link fence) the actual beach. But, as the years went by and the tourists invaded.....I hate to say it but, I just ran out of patience. One summer Sunday aft I went to the grocery story and, when I came back I couldn't find a parking spot. I had to park so far away from my house that my ice cream melted. And, I did too. That was the day I said...that's it, we've got to move. So, we moved to a little bedroom community called Mission Viejo. But, as the years went by and both sons were able to beg in unison and, or tag team nag......they talked me back into moving back to the beach. I looked and looked and could only find a house........yes, you guessed it...on Balboa Island. We moved back in 1992 and my sons were able to once again enjoy beach life and the beauty of Balboa Island. It is a haven against the outside world. It is a clean, safe, fun place to live. I can't think of a better place for children to grow up. The Halloween farm animals, the Christmas parade, the summer movies, the swimming pool, the best burgers around at Island Burger and, of course...Dad's frozen banana's.
I moved away in 1994 and, now live in Kansas. I think of Balboa almost everyday. I come and visit the Island every time I come back to So Calif. And, every time I sit at the end of Agate st on the bench and look out at the bay and have my memories. I know I will come back and live there again. How do I know that? Trust me, I just do. It just kind of gets in your blood. You know exactly what I mean, don't you? See ya;
Sherry Blades

We whis you a merry christmas
and a happy new year.From Holland. and go on with your website i love i't
bub van der Meer. Holland
Bu van der Meer
Hi Jim, I'm Dale Head's sister. I was just talking to him on the phone and he told me to go to your website...so I did. I just want you to know that you did a fantastic job on the site. I'm going to go back and look tomorrow when it is lighter...maybe I'll see Dale.
Have a nice Christmas!
Sandi Russell

Thanks again for giving me that connection to the beach and my youth! You deserve a medal for keeping this site up and going
Don Vanpraag
Jim,
I am so thankful I found your website. The picture I bought (Dusk Balboa Island) is absolutely beautiful. I'm planning on framing it and giving it to my special someone for Christmas. He and I shared a memorable evening walking around Balboa Island. This picture means so much to me. Thank you!
Sincerely,
Kristie Harris
Hi Jim ...
Is your book, "Tales of Balboa Island" still available? I grew up (not really) on Balboa Island, and lived in Newport Beach all of my life. Have a good library of history books of the area, and would like to add your book to my collection. Thank you!
Skip Freely
This may sound odd but I really miss Balboa this time of year. I now live in the mountains of Colorado and have the white Christmas' every year. There was something very special about Newport-Balboa around the holidays that I can't put into words. Happy Holidays to All.
Don in Colorado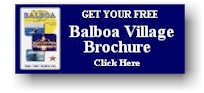 The California Gray Whale makes the most spectacular and longest mass migration of any marine mammal. Gray Whales Migrate Annually along the west coast of North America from the summer feeding grounds in the Bering Sea to the winter grounds of the Baja California lagoons and back again along the Orange County coast during the months of December, January, February, March, and early April. Balboa's Sport Fishing boats offer Whale Watching Cruses so that children and adults may thrill at the sight of these magnificent mammals as they pass along the coast. For further information contact:
Davey's Locker
Newport LandingSport Fishing
Newport Whale Watching
Shellback Yacht Cruises

2nd Wednesday of the Month
Book Club Luncheon 1PM
Bibi Anna's
675-8146
Thursday, January 27, 7 - 8:30PM
A Night of Mystery at the
Newport Beach Public Library

Thursday, February 3, 7 PM
Step Back in Time with
Charles Phoenix Retro Slide Tour
Newport Beach Central Library
Sunday, February 13, 3 PM
A SUNDAY MUSICALE
DYNAMICS OF LOVE
Newport Beach Central Library
Saturday, February 19, 3 - 4:30 PM
"LIVING COLORS"
COMBINES ART, PERSONAL BEAUTY &
PROFESSIONAL IMAGE
Newport Beach Central Library
(949) 717-3800
Saturday, May 7, 9 AM - 5 PM
11th Annual Balboa Island Artwalk
ABBOTT'S LANDING

Edward Abbott moved to California from Iowa with his family in 1880. In 1889, Abbott, a man of the world who once wrote a letter from the top of Cheops' Pyramid, built a squatter's shack next to the only fresh water spring on the peninsula, near Bay Avenue and Palm Street now the site of The Class of 47, a local bar and still the local watering hole, where he collected, polished, and sold abalone shells, a life long hobby.
In 1891, and 1892, Abbott purchased from The State of California as swamp and overflow land, the area between 9th Street and L Street on the peninsula. He built a small pier at the location of today's Palm Street ferry landing that was known for years as Abbott's Landing. Abbott built the "Last Chance," a small steam boat for taking excursionists on ocean trips, but the Federal Government refused a permit to operate it. The boat was moved to Lake Ellsinore. In loading the boat onto a railroad car, Abbott sustained injuries which many felt lead to his premature death. It was shortly before his death in 1895 when Edward Abbott, transferred all of his holdings to his brother-in-law Clinton Andre. The land holdings were then cut-up and sold for a few hundred dollars per lot, and a few houses were built in the area which is now downtown Balboa.
During the next ten-year period, life was great for those who lived or visited this area. It was a sportsman's paradise of fowl, fish, and shellfish. If you wanted bay clams, you'd just row over to Snipe Island with a big tub and fill it up.

"Life should NOT be a journey to the grave with the intention of arriving safely in an attractive and well preserved body, but rather to skid in sideways, chocolate in one hand, martini in the other, body thoroughly used up, totally worn out and screaming "