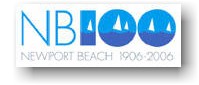 Free Photo Calendar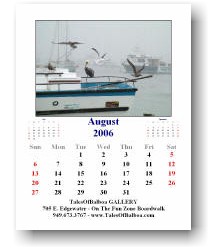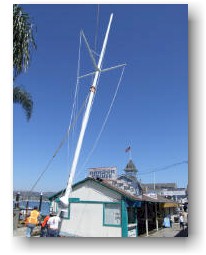 Workers finally installed the new 50 foot flagpole at the foot of the Washington Street public dock. The primary reason for the flagpole will be to vent the strong low tide rotten egg smell high into the atmosphere. The flags will be flown after the flood light for night viewing is installed.
Time Capsule
AROUND THE ISLAND FERRY
In the late 1940's, Joe Beek started the Around The Island Ferry, which served the entire Balboa Island shoreline and adjacent areas. The original Around the Island Ferry was the converted 30-foot, 30-passenger yacht, "Where away". In the mid 1950's, Evan Jones built a new 30 foot ferry at the J. A Beek building. Evan also built all three of the current Balboa Island Ferries, Admiral, Commodore, and Captain, at this same location. The "Where Away" was sold to a local government agency for use as a dignitary launch. Traveling on 30-minute runs, service was from morning to 10 p.m., and the fee was 25 cents. Dorothy Handy recalls, "It was a little launch that left from Balboa Island. And if you wanted to catch it, you stood on the dock and waved it down. It would pick you up and drop you off anywhere you wanted." Seymour Beek recalls that, as a youth, he stole (borrowed) the ferry after 10 p.m. for "Ferry Parties" in Newport Bay, Corona Del Mar, and at sea. To this day Seymour believes his father Joe Beek, was never wise to the parties. The Around The Island Ferry was discontinued in the late 1950s.
I just read someone's memories of the "little yellow houses" in Balboa. Those cabins belonged to Helen Stephens and her son, Edward (Eddie, as we knew him) My family rented cabin 17 for 2 weeks every summer. Helen and my parents became very close and when they danced at the Rendezvous Ballroom, my Dad would save a few dances for Helen. Helen's husband built those yellow cabins, knowing that it would mean future security for Helen and Eddie. When he passed away it did indeed become the main source of income for the two of them. Eddie delivered ice for everyone's "icebox" when needed and was the most handsome "cabin boy" anyone had ever seen. Who would have guessed that several years later he would write a novel entitled " One More Summer" that would be all about Balboa including some risqué experiences he had as that cute cabin boy? Those yellow cabins, on the corner of Adams and Bay Ave. were known as Bayside Villa. They are now replaced by a two story beige stucco home. I did a really crazy (and stupid) thing today. I drove my convertible (top down) to Balboa Island hoping to purchase some Balboa memorabilia for Eddie Stephens. He is nearly eighty now and has a birthday this week. I thought he'd love something from Balboa, but, alas, after finding no parking place anywhere on the Island, I thought I'd take the ferry over to the peninsula. Bad idea!!! I waited 45 minutes in the blazing 90 degree sun to get on the ferry. (Who knew there aren't 2 ferries any more?) When I arrived on the peninsula the traffic was unbelievable. The parking lot by the pier was full and there was no street parking to be found. I finally drove back to San Clemente discouraged, without a birthday gift for Eddie, but with very tan arms. I adore Balboa, but I never should have tried to go there on a Sunday in mid-summer. A bicycle is the only way to go there in July and Aug.
My brothers and I would save two cent glass soda pop bottles all year so that we'd have money to spend in the penny arcades during our 2 weeks at Bal. Each morning began with my Dad making a trip to the bakery as soon as they opened at 5:00am to get a dozen freshly made warm donuts. Krispy Kreme could not hold a candle to those warm jelly donuts. On the way to the bakery my father would put our blankets out on the beach to save our spot for the day's beach activities. Four families planned their two weeks together each year and together we took up most of the beach at the end of Adams street. At lunch we would often treat ourselves to those delicious double decker cheeseburgers and fries from the FunZone and then walk back a second time for a dessert such as a Frosty, candy apple, frozen banana, or pecan praline. Those were the best days of my life. We knew nothing of cholesterol and calories and baby oil was our "sunscreen" because tans were suppose to be not only beautiful, but "healthy". Renting a paddleboard, kayak, or "peddle-low", was a special treat that we could only afford to do twice during our stay. If I ever get Alzheimer's and lose my short term memory, I hope my Balboa memories will be the last to go. They are a treasure to me.
Liane Hawkins
liane.hawkins@sbcglobal.net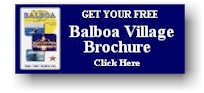 Business Phone Directory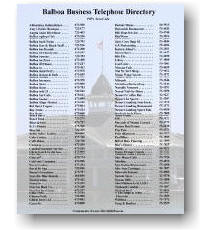 Take a Ride on the
Balboa Island Ferry


2nd Wednesday of the Month
Book Club Luncheon 1PM
675-2373
Newport Landing Restaurant
Saturdays 3:30 PM -7:00 PM
Kyng Arthur: Authentic Reggae
"Cabo Cantina" 100 Main St
949-675-7760
Thursdays May 18 - August 31, 6 PM
Beer Can Regatta
Thursdays June 8 - August 24
Cinema Orange Films
Orange County Museum of Art
June 9th - October 15th,
Dredges to Dreamboats
Newport Harbor Nautical Museum
Saturdays at Sundown
June 17 thru September 2
Annual Flag Lowering Ceremony
Patriotic Music, Taps, Canon Salute.
Balboa Boat Rentals
By the Balboa Island Ferry Landing
Balboa Peninsula
Thursdays, July 6, August 17, 6 PM
Concert on the Peninsula
Balboa Pier Gazebo

Saturday August 5 7PM
Sunday August 6 7PM
Shakespeare by the Sea
Saturday Night August 12
Perseid meteor shower
Sunday, August 20, 3 PM - 7 PM
4th Annual Funday in the Park
Thursday, August 24, 6;30 PM
Movie Night - "Dane Reynolds"
Peninsula Park
Saturday, August 26, 11AM - 9PM
Blues on the Bay
Friday, September 1, NOON
Happy 100th Birthday Cake Cutting Newport Beach City Hall
Sunday, September 10, 3 PM
Sunday Musical
Central Library
Friday, October 6, 5 PM - 10 PM
Les Brown & Band of Renown
Dinner Dance
Balboa Pavilion
Sunday, October 8, 2 PM - 8:30 PM
100 Years Between the Piers
Beach Party
Sunday, October 8, 3 PM
Sunday Musical
Central Library
Sunday November 12, 3 PM
Sunday Musical
Central Library
Hi there! I was trying to find the phone number for the Balboa City Hall, specifically the Business Licensing department. Would you have their phone number?
massage_effex@yahoo.com
Your camera's in Balboa are great. I give your web site to many of my friends and once in a while we set a time for us to look funny in front of the Bay front camera and friends in Europe will be watching. Thanks for the great work you do with recording all the areas before the changes. The picture with the power poles really got me because they are also in the alley behind us. I live on 609 W Balboa Blvd
Tia and Case Van Mechelen
case@adaptautomation.com
is it true the "fun zone " will be turn down in early Sept 06 ? if so what parts ? are we talking the fun zone rides or the game room ?
mike scalice
minimesmoma@dc.rr.com
Mr. Fournier –
Hello, my name is Ryan Miller and I'm trying to track down a local newspaper/newsletter for the Balboa Island/Peninsula area. I'm hoping you might be able to answer my question and help me out. I was wondering if there is a local newspaper that might have covered an event called the Balboa Rendezvous that took place on March 31st – April 2nd 2006. It's a Balboa dance competition where people come in from all over to compete and dance. The event would have been at the Balboa Pavilion, I'm assuming. The reason why I'm asking for this is because I would like to try and purchase a back issue of the newspaper/newsletter from those dates. I had a friend that competed in the event, and would like to save the article for them if the article even exists.
Thanks in advance!!
Ryan Miller
4756 Royal Prince Way
Knoxville, TN 37912
RyanMiller1@Comcast.Net
Pop Quiz


Words Of Wisdom
People will accept your idea more readily, if you tell them that Benjamin Franklin said it first.