Balboa's Main Street Redevelopment Yields a Wealth of Lost Treasure.

When veteran treasure hunter Larry Tucker heard about the streets of Downtown Balboa being torn up he couldn't wait to get his metal detectors working in the rubble. Larry had barely started searching through the sand that been uncovered from beneath the old streets and sidewalks when he found a Barber quarter. Then coin after coin he recovered bits of Balboa's past. An old Red Car token reading 'Good for One Fare.' Coins from the old gambling casinos, the original Balboa Theater, even from the Balboa Arcade. One old coin read 'Good For One Mint.'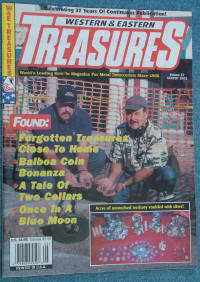 Larry Tucker (Left) and his friend Rick Rolsheim were given the cover story in Treasures Magazine
In Larry's 15 years of treasure hunting, this was the most exciting find ever. Over the next two weeks Larry found over 200 coins. Finally after visiting the site every day for over five-and-one-half months Larry had amassed a collection of over 300 coins worth thousands of dollars.. The newest dated 1922 the oldest coins going back into the 1800s. One of the most prized coins in Larry's recovered collection was a 1901S quarter worth over $2,500.00. Larry plans to be back for the final Phase 3 of the redevelopment next year.
Balboa Local is Winner in
Big Mac Pumpkin Contest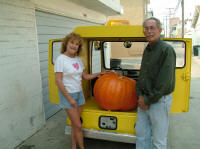 Balboa Market's Bob StJohn awards Paula Curran with the Big Mac pumpkin.
With over 150 entries in this year's 'Guess the weight contest,' Paula Curran was the winner with the correct guess of 119 pounds.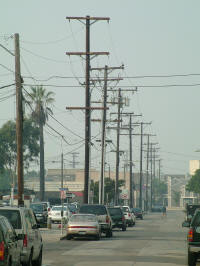 By Scott StJohn
Like much of the Peninsula, Balboa Village will be considering a plan to underground the currently overhead electrical, telephone and cable TV utilities. The City Council will be holding a owner information meeting on January 15, 2004 in the City Council Chambers regarding the Balboa Village Assessment District #75 plan. For questions contact; Patrick Arciniega, Associate Engineer for Public Works Department.

Why is it that if you go out on Balboa pier and use the coin operated telescope to look around you're a tourist taking in the view, but if you use a pair of binoculars you're a Peeping Tom pervert?
Jim - I bought one of your pictures last weekend at the Balboa Market. My mother lives in Balboa although I now live on the Mississippi River in Minnesota. Do you have an on-line gallery of your pictures, or could you email me a file of thumbnails? I might want a second photo. Nice website, BTW.
Gregg Mitchell
whats up dude, were in rome, its seriously fricken old. tell everyone were missin the small town feel, its been raining everywhere we have been. european question of the trip, how do flush the toilette. well jim hope all is well, pass this on coffee shop, sheila etc. thanks dude see you soon, oh trippy about the docks.......
rich and carrie

A Thanksgiving Card For You

Balboa Branch Library
Thanksgiving hours:
OPEN: Mon., 11/24, 9-9;
Tues., 11/25, 9-6, Wed., 11/26, 9-9; CLOSED: Thurs./Fri., 11/27 & 28;
OPEN: Sat., 11/29, 9-6.
Happy Thanksgiving, from the staff!
Thanksgiving Day
Bibi Anna's
Thanksgiving Dinner
With All The Fixings
11 am - 4:30 pm
Adults $17.50 - Kids $5.00
Call 675-8146
Wednesdays
Thru December 10th
Balboa Fun Zone
Wild Wednesdays
Big Discounts
At Participating Stores
Thursday December 11
6 pm - 9pm
BMOA Christmas Party
Catalina Flyer
Tickets $35 Per Person
Available At; Catalina Flyer
Balboa Village Market
Bibi Anna's & local Merchants
Saturday December 13
Newport Elementary
Paints the Town
December 17 - 21
6:30 pm - 9 pm
Newport Harbor
Christmas Boat Parade
New Year's Day
1 pm - 5 pm
Menagerie Entertainment
Balboa Village 5th Annual
New Year's Day Talent Show
At the Gazebo In Peninsula Park
Saturday January 10
6pm - ??
Bob Stephens' Retirement Party
Balboa Pavilion
Balboa Village Circa 1982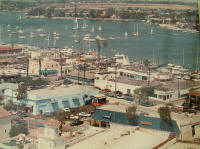 This great old photo shows the old Balboa Fun Zone just before it was demolished

Balboa's first internet saloon now on line.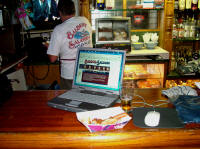 Now you can go on line
at the Balboa Saloon
Balboa Saloon now offers free WI-FI Internet access to all of their customers. Just bring your laptop or PDA and go on line using the SSID "coldbeer." What else? Saloon owner, Butch Wilson says he went on line with the program the first of October and within days he had a dozen regulars using this free service.

Greetings Jim,
My name is Steven Kamine and I have been in the possesion of a hard cover book with the title of Dick's Joint for the past 23 or 24 years. It's a limited edition book and I have copy 650 of 1000. The book is a tribute to Cap'n Dick Shaw. I've been trying to find out more about the book and how it came about, today's value of the book (if any) and a bit of history about Richard Shaw but I have found very little information. If there any information that you could provide to me. I would greatly appreciate it.
Thank you for your time,
Steven Kamine

Do you know how to contact the lady who cares for Rupert? I'd like to find out about bringing a couple more black swans to Newport to keep him company. Whether that is even a good idea or not..
Thanks.
R Kelly
Hi Jim,
I'm asking a favour of you. I live in Toronto, Canada. My mother had a long time friend, Bonnie Fulghum . I am her namesake, but I haven't heard from her in a couple of years. She lived on 3051/2 Main St. in your town. Did you know her and if you did, is she OK?
Thanking you in advance.
Bonnie Valant
Dearest Jim,
Thank you so much for letting Bonnie Fulghum know that I was trying to get in touch with her. We talked tonight and is was so good to here from her. I somehow mixed her phone number up and I kept getting the message that her phone was disconnected. Anyway, thank you again for being so kind.
Best Regards,
Bonnie Valant

Jim:
Love the new Main Street camera. I can almost taste the Jeremiah Red at BJ's from here!
Roy Beard (Grand Forks, ND)