Balboa's 95th Annual
Christmas Boat Parade
is an event that's a must
for everyone.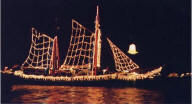 For nearly a century the week before Christmas is an event that draws thousands of people from all over the globe, and this Christmas will be no different. One of the best places to view the Boat Parade is at the Balboa Island Ferry Landing at Fun Zone on the Balboa Peninsula. Be sure to dress warm because this is the coldest time of the year.
This year the Boat Parade will run from December 17th thru the 21st. The parade usually reaches the Balboa Fun Zone bay front just before 7 pm.
Even better then watching the parade, you can be a part of it. You can rent a boat or ride in the Boat Parade on one of several boats that are a part of the Boat Parade. Here are some of them:
Balboa Boat Rentals
Catalina Passenger Service
Davey's Locker
Fun Zone Boat Co.
Marina Water Sports
Newport Landing Sport Fishing
Newport Whale Watching
Shellback Yacht Cruises
Newport Elementary Paints the Town
This annual event helps bring Christmas to Balboa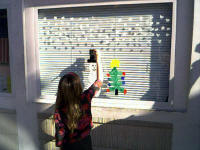 Each year the children of Newport Elementary School bring the joy of Christmas to Downtown Balboa by painting the store windows with
their Holliday art.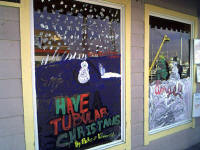 You can watch this event this year on Saturday morning, December 13.
Bring the family

The reason Santa is always so jolly is because he knows where all the naughty girls live.

Hi Jim!
The article that you did for this month (nov. 2003) on the treasures found in old Balboa looks great! Thank you very much for your consideration and keep your eyes out for the field trips for children to see old Balboa followed by a treasure hunt (with coins and treasure maps) near the Balboa pier. I will see you soon. Check out today's Children's web-site at www.gochildren.org
Larry Tucker

Thank you Jim for the nice article on your site. I appreciate it. We had some new faces yesterday using the service. The chili dog looks pretty good!
Butch Wilson
Dear Jim --What a great website, and what great memories you have dredged up for me. I worked the Over 12 Game at the Balboa Fun Zone during the summer of 1960. That's when the loveable owner Al Anderson and his wife would check to see how I was doing through binoculars from their upstairs office window. There was something about those two that you had to like.
I can remember like it was yesterday, the owner of many of the game concessions telling me, "I move Tim from game booth to game booth, so that all my concessions will make money." He was talking about singer Tim Morgon who worked his magic at the game concessions. The customers flocked to him. One of the main reasons --besides his movie star looks-- was that there was a true goodness emanating from Tim Morgon.
Jim Isadore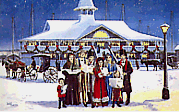 This series of paintings was made for the Balboa Pavilion by Susan Newcomb.
Newport Kindergarten Class of 1932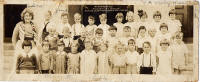 Mary Margaret Johnson ( Huddleston ) ,bottom row second from left, supplied this class photo. At this time the school was located across the street from what is now Newport Elementary on Balboa Blvd.
Good morning jim hows it going? well were leaving rome it was amasing saint peters church and the sistine chapel was the most inspiring thing we have ever seen. I truley believe that every person in the world should see it. I think that the world would be a much diffrent place if they did. Well were off to greece today sandy beaches blue water and lots of sangria. Tell every one we said hi if you dont mind and thanks for the web site its a great reminder of home.
Rich and carrie
While attempting to master this super duper computer and stave off the evil hackers, safely operating out of a cave somewhere in Bangla-Desh, I have decided to once more attempt to contact Paradise Lost, better known as Balboa. I am really now retired! I am now much more worried whether a certain bunny will "get" my flowers. There is a certain deer
who has an insatiable curiosity about humans and who likes to peer through my kitchen window. Cruel fate! I'm now the resident conservative compared to the residents hereabouts, which (as Jim Gagne will tell you) is genuine role reversal. My last tax bill did it! It's obviously because of those tax - tax and spend - spend Democrats! However, I see no need to continue their bad habits.

The people up here rely much less on fast food, so they probably are a little healthier. But, to be honest, they are really fond of doing "Los Posadas" style pilgrumages to the local wineries. As a result, they do seem to be truly dangerous on the highway - many of which are simply paved-over two-lane country roads. Because the wines are so good, there is a general delusion that they are great cooks. That means, as a translation, "the weirder the taste - the better!"
Say hello to all my friends!
Wayne

Hi, I Google searched my name and I come up with a picture from this web site. My name is Teri Kruse. I came across a picture of another girl named Teri Kruse on the Faces of Balboa page. I was wondering if you could maybe contact her and ask if she would consider emailing me. I just thought it would be interesting to talk to someone with the same name as me. If she would like to, you can supply her with my email address. Thank you for your help.
Teri Kruse
teriyaki_bowl@hotmail.com
Thank you for the birdie picture. I used it as desktop wallpaper and love it. so clear.
THANK YOU SO MUCH! I just love your newsletter....
Susan Rose