Dominic Tivoli operated a small shoe repair shop on Palm Street next door to the old Red Carpet.
By Tim Carmody
Dominic Tivoli 1900-1986 Dom was a very good friend of mine. He was born in Italy in 1900 and that was quite the time in Italy (see the film "1900"). He grew up in a family that loved to argue politics over the dinner table. He considered himself a socialist and would take that point of view. He was also very catholic in a traditional sense. He wanted honesty in business. Dom came to Chester Penn. in 1922. He was sponsored by his uncle who was in the "blacka hands" as Dom would say. He soon tired of being told what to do and abruptly left Penn. for Calif. He settled in L.A. and went to work for a shoe company making custom shoes. He'd been a shoe maker since he was 8 years old in Italy. Once again he tired of being told what to do and went into his own business repairing shoes and making his famous sandals. That lasted until the 60's sometime until his landlord sold the building. He knew Balboa because he had friends there. The Vairos, Josephine and Ralph lived on the peninsula point. Dom jumped on a chance to rent a shop on Palm Ave. He moved all his equipment from L.A. and was in business. I first saw Dom one morning as I walked by his shop. A customer of his ran out with Dom right behind him shaking his shoe at him and cussing at him in Italian. We exchanged morning greetings and he invited into the back room of his shop where he made Italian coffee. Express he called it. After a tiny little cup of that syrupy stuff it felt like I was the express. That was the start of a wonderful friendship. I love to argue politics too and at that time considered myself a bohemian. Dom would sometimes jump up from his chair and start yelling at me if we didn't agree. I just kept my seat and kept stimulating the conversation.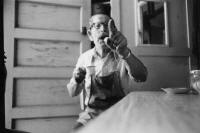 This went on for years. Early mornings, before he would opened, he would be working and that was the time we'd get together. I really enjoyed our little talks and we were soon friends. Dom loved to cook, so being a bachelor father, my son and I would go to his house for dinner. He would serve up a great lasagna. He and Josephine would compete in the kitchen. I'd always invite Dom and Josephine to my gallery openings at 303 Palm Ave and they would be the life of the party. They were in their late 70's and 80's.Josephine would get up and dance with Dom egging her on. Dom had a successful business with lots of loyal customers. He was very good at what he did and loved working. He refused to give up and retire even when once again his landlord sold the building. Dom was 84. He moved his shop to the other end of the peninsula, across from city hall, and was back in business. At about this time he started to slow down. He decided to sell the business to an immigrant couple because he trusted any body who was an immigrant like himself. Six months after he sold the shop, my wonderful friend died. He would always say, "I know I'm going to die,, just not right now." Dom and I loved to laugh and we had the best of times.
Balboa Village Market Gets New Meat Cases
You know you live in a small town when new meat cases at the market are the big news.
As promised by the Balboa Village Market's new owners, the new meat cases were installed last month. The cost? Over $15,000. More improvements are coming.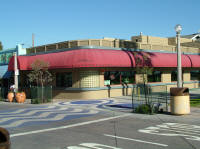 Studio Cafe manager, Steve Welton, says the new name for the establishment will be, "Cabo Cantina."
Men are from Earth. Women are from Earth. Deal with it.
Balboa Photo
of the Month
Hidi Helwig
Hidi's Coffee Shop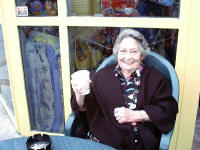 "This ain't no Christian Science
Reading Room."
Goodbye to an old friend to so many.
Passed away on December 28, 2003
at the age of 78.

2nd Wednesday of the Month
Book Club Luncheon 2 PM
Bibi Anna's
675-8146
The California Gray Whale makes the most spectacular and longest mass migration of any marine mammal. Gray Whales Migrate Annually along the west coast of North America from the summer feeding grounds in the Bering Sea to the winter grounds of the Baja California lagoons and back again along the Orange County coast during the months of December, January, February, March, and early April. Balboa's Sport Fishing boats offer Whale Watching Cruses so that children and adults may thrill at the sight of these magnificent mammals as they pass along the coast. For further information contact:
Davey's Locker
Newport LandingSport Fishing
Newport Whale Watching
Shellback Yacht Cruises
BMOA Christmas Dinner Cruise
A great time was had by everyone aboard the Catalina Flyer as these quick snaps will show.
Balboa Pavilion 1928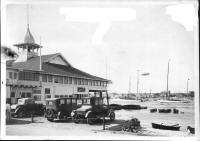 Hi Jim,

Really enjoy "Tales of Balboa". I spent every summer of my life in Newport Beach and Balboa as did my parents and grandparents and now am a permanent resident. The 4th of July has seen many changes but the best is the local neighborhood parades which still continue. I was sorry to see the latest article about the East Bay parade. My neighborhood has a wonderful parade between Island, Coronado, Bay Ave. and the bay. Colorful bikes, trikes, razors, strollers, floats and EV's. Who knows next year we may even have a "pet" category. Everything is topped off with games barbecued hot dogs and lots of comeraderie. Our "guests" always include the Fire Dept. crew from Station 1. The day is always topped off watching the back bay fireworks. Thank goodness it returned after a one year hiatus. I do miss the fireworks off the Balboa Pier though. That was always spectacular and a favorite of everyone. Do you think the merchants will ever revive that old tradition?
Bev Purdum
Dear Mr. Fournier:
I have had a splendid time visiting your excellent Web Site< Tales of Balboa >, it was WONDERFUL,CONGRATULATIONS!!!!
I was left speechless, and expressing myself of this experience goes beyond words as to describe how splendid it is to stroll through the many interesting and beautiful views of the areas. It was like a fairy tale. All the events, the interesting information's of the area, all and everything is excellent. I also want to thank you for the beautiful photo you so kindly took of my husband Julio and I, and your gentility in gifting the photo to us. We are very grateful to you.
I hope to visit you all, with Julio soon.
Biby Brito.