Jim,
My name is Brent Jacobsen, and I am the lifeguard rescue boat supervisor that you have spoken to on the beach on a few occasions. Anyway, I was called out last Sunday morning, for a boat on the beach rescue. After we had the crew taken care of I managed to take a few shots that I thought you might enjoy seeing. I know you have featured the Pamela Rose on your site, as well as Lee. Up will be happy to know, he was the last one to leave the boat. Enjoy, and feel free to use them anyway you wish.
Brent Jacobsen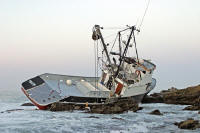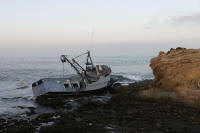 I somehow convinced Al [Nielson, owner of the old Bal-Boat Rental] that he needed to actually hire me. I was 12 at the time. Al had one of those check machines that would emboss the check with a hand crank. On payday we'd all stand there and watch Al cut the checks. I was so proud when he handed me my first real paycheck.
Al took a real chance hiring someone so young, even then I suppose it violated all kinds of labor laws. His greatest fears were realized when I slipped and broke a finger on one of the motor boats. I wasn't too concerned but it started swelling and turned blue. Al did the right thing and took me to the emergency room at Hoag. I could tell he was worried he'd get busted for hiring someone so young but I sure wasn't going to give him up on that. He took care of me and that's all that counted. My parents were very pragmatic. You slipped, you broke your finger, Al took care of you, end of story.
1956 to 1992 in Balboa. That is lots of time and lots of great memories. I worked for lots of people in Balboa, but some I wish I'd worked for;
Don, the banana guy.
The Hoagy guy.
Harold Hanniford (though that would have put me into direct competition with my father)
Vallely (though he didn't keep his boats as nice as did McNally and Al Nielsen)
Art Gronsky (not that I held him in high esteem, but I never worked at the Pavilion)
I also would have liked to work at the Hill's fuel dock. Those guys really seemed to have something pretty good going. What a kick-back job!
Enough for now, your site rocks,
Alan Sandvoal
Dear Jim:
Do you remember the name of the little red haired lady who used to run the dart booth at the fun zone cira 1957-1965? I remember her when I was a kid but I never knew her name. Thanks
Sincerely,
Mark Jackson

Hi, Jim--I don't know how you do it. Your web site just keeps getting better and better.
I'm just wondering if anyone remembers owner Al Anderson in the summer of 1960 expelling Frank Sinatra and his party from the Fun Zone for throwing a few lighted firecrackers at the park. The singer's yacht was anchored nearby. (I think it was called 'All the Way'; I'm not sure.) I was working the Over 12 game, and it appeared that Sinatra and his gang had consumed one too many Jack and Cokes or something similar. The following afternoon Sinatra showed up alone with what looked like a bottle of champagne and some roses and climbed the stairway to Al's second floor office. Al Anderson spent the rest of the day repeating, "The guy's all right. The guy's all right." There will never be another Al Anderson, and, of course, there will never be another Frank Sinatra.
--Jim Isadore, Florida
Jim,
Your Circa 1975 Picture of the Fun-Zone - The Hamburger stand in the background was operated by my Aunt around that time. The ferris wheel inside the Fun-Zone was ran by my Cousin Lee. My last name is Dever, I lived at 510 E. Ocean Front for 15 years...The sign on the house read Grandma Dever. For as long as I can remember people would stop in front of the house and go " Grandma Dever lives there...." By the way, the picture of the boy looks like a friend of mine. I just heard Heidi died. Boy could she make salsa. It would sit on the table in that jar and bubble...nobody seemed to mind. Does anybody remember the shirts that read " I'm not a tourist I live here" from the old Balboa hardware...my friends the Newtons owned it.
donedealio@excite.com
It's scary when your body starts making the same noises as your coffeemaker.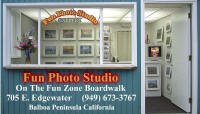 2nd Wednesday of the Month
Book Club Luncheon 2 PM
Bibi Anna's
675-8146
Saturdays at Sundown
June 12 thru August 28
Annual Flag Lowering Ceremony
Patriotic Music, Taps, Canon Salute.
Balboa Boat Rentals
By the Balboa Island Ferry Landing
Balboa Peninsula
Thursdays 6 pm to 8pm
July 1 - August 12
Concerts on the Peninsula
Peninsula Park Gazebo
Sunday July 4
Old Glory Character Boat Parade
& Wooden Boat Festival
Balboa Fun Zone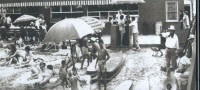 Circa 1948
If you look under the umbrella in the center rear of the photo you will see Dorothy Handy, as a young girl, renting paddle boards for Fun Zone owner Al Anderson. At the end of each day Dorothy would take 25 percent of the day's receipts, put them in an envelope and slip it under Anderson's door. Today Dorothy owns the Fun Zone Boat Co.

Jim, I hadn't checked your site in some time and when I looked tonight, what a nice surprise to see a message I'd sent to you some time ago prominately displayed on the home page. The message describes my time working in the Fun Zone at the goldfish game. I have extremely fond memories of that time, thanks for thinking my message is worthy to share with those who view your site.
Alan Sandoval

jim,
what camera system do you use for your web cams? would you recommend them as far as ease of setup and reliability? i want to put one by 15th st. i will give you the link once it is up. i would also like to find out what cameras walker is using for his cameras, but his site is down so i cant get the vendor link for the cameras. (if anyone know this please let me know)
thanks
swmusk@aol.com
Does anyone have any good photos of the the Fun Zone, early 70's. If so, I would love to see them.
fred duckett
please call 650 326 7040

hi Jim, thank you for putting me on the site. i didnt realize it till i saw it that i had the cap locks on. does it appear that i am yelling? also, you forgot to post my e-mail address under my name, is that fixable? the only people i keep in touch with are Carl & Julie, occationally Jim. thank you so much though, i check the site every other day. dont let those negative people in "your two cents" get you down. they have nothing better to do. personally, they just appear ignorant. talk to you soon, Kathleen p.s. I got married, thats why my maiden is in brackets. take care pal...
KATHLEEN (HANCOCK) ROBERTS
Hello Jim,
The message below was posted on your bulletin board after reading the story of another missing 'Steven' in your location. I am even more concerened about the well being of my long-time friend - Steven M. Bolduc. As recently as 4 weeks ago he was assisting me on a small personal matter and has now, apparently, disappeared. I am in France at the moment, and a mutual friend in Newport Beach has also tried to contact Steven, neither of us has been successful. Having no explanation for his disappearance, I wonder if you or some of your associates might know of his whereabouts or condition.

Original posting:
April 26, 2004
An old chum is trying to contact Steven M. Bolduc - does anyone know his whereabouts... photograph on page 10 of "Faces of Balboa" ? I have a phone number and email address for him, however am receiving no replies. I am concerned of his well- being. URGENT! If you have any information as to the whereabouts of Mr Bolduc, please contact his friend, Bill Murphy. artist@billmurphy.com
Thank you.
Contact Bill Murphy
0033 2 99 43 15 13
email: artist@billmurphy.com
Hello, I heard of you from Tina.
I am a OC resident in Tustin. My wife, daughter and I hang out in Balboa all the time...
Actually, I've been taking some pictures and movies down there. you can see some of it here.
http://homepage.mac.com/mjmshadow
/PhotoAlbum19.html
Thanks
Michael Misiuk

Hi Jim - we are the 2 english guys who came to see you 2 weeks ago. Great site! every one loved the pics we bought from you. How can we get more? Do you have a mail order set up?

Mike & Kev